IEC and BS Standard
Approved by CCC, ISO,BV, SGS
PVC or XLPE
Tray cable is a multi-conductor. The conductor is can be tinned copper or copper. It belongs to a kind of control cable. Insulated conductors can be low smoke zero halogen.
Conductor: Copper Or  Tinned Copper
Insulation: PVC/XLPE/NYLON/LSZH
Cores:Mulit Cores
Great Support Tray Cable With Wide Selection
Tray cables are used in control and power applications in chemical plants, industrial plants, and generating stations, as well as commercial buildings. An indispensable part of the wire cable.
They provide a suitable multi conductor and higher level shield for the transfer of power and control such as electrical instruments, and numerous types of electronic equipment. The flexibility of tray cable construction provides dependable operation under even the most demanding conditions. Their performance is similar to control cable and instrumentation cable
What is tray cable?
Type tray cables are widely used and are generally installed in cable trays. The tray wire has multi-core and twisted pairs, which can be used for control and buildings. Tray cable is an all-around cable that offers many advantages over other types of wire, including flexibility and ease of installation. Since nylon sheathing can be used, we also called it thhn tray cable.
TC cables are available in stranded conductors with various wire sizes ranging from 12 AWG to 4 AWG. They come standard with PVC outer jacket and are available with various insulation materials such as polyvinyl chloride (PVC), cross linked polyethylene(XLPE insulation), and cross-linked ethylene-propylene rubber.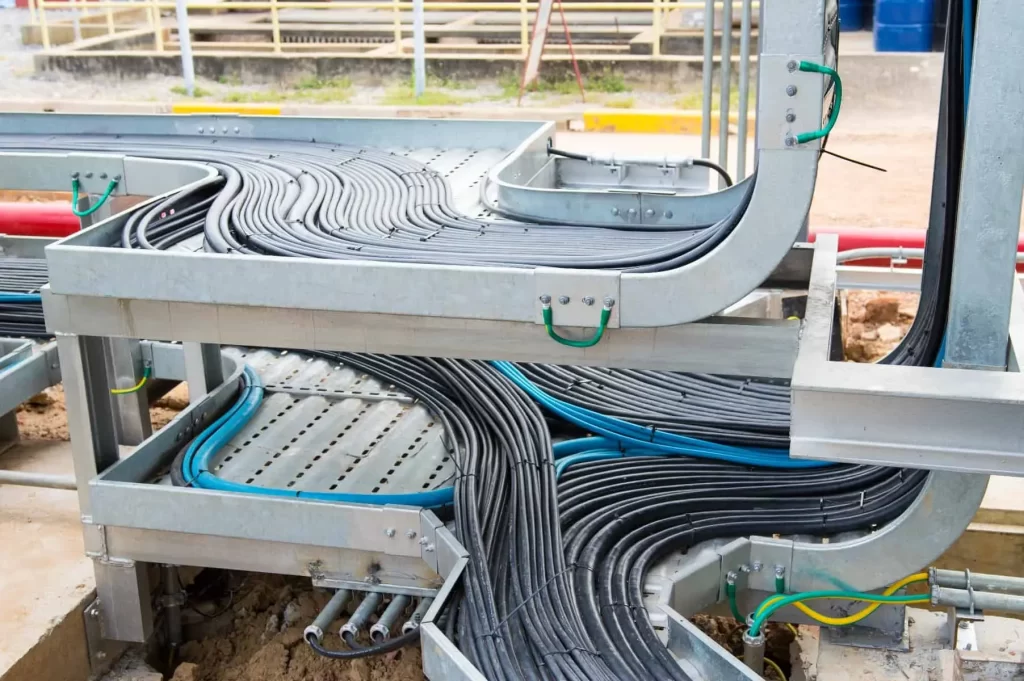 What is tray cable used for?
Tray cables are perfect for use in environments where high temperatures and dry locations. The main reason it has thermoplastic materials. Because tray wires are resistant to moisture exposure, they can be installed outdoors in areas where not moisture resistant.
Tray wire with both power and control conductors is permitted to be used (without being installed in the cable tray) in these occupancies.
The conductors must be installed in approved raceways, as appropriate, and extend only to the panelboard or box.
Tray cable wire can only be used to supply short circuits that are not exposed to physical damage. For example, tray wire cannot be installed where it will be exposed to physical damage from moving machinery, or in areas subject to physical abuse.
The electrical tray cable must meet the requirements for Type TC cable, which include the following:
The maximum allowable ampacity of the total circuit load is limited by the conductor ampacity. This means that the maximum allowable current capacity must not exceed that of each conductor separately.
In other words, if you were using 12 AWG conductors instead of 14 AWG conductors, then you could increase your ampacity from 15 amps per circuit to 20 amps per circuit without exceeding the minimum allowable ampacity for a 14 AWG conductor (20 amps).
Can tray cable be used in residential?
Power limited tray Cable can be used in residential but is used as a commercial cable. The main reason for this is that it isn't as common as other types of cables, such as house wire and electrical wire. As such, it's not really recommended for use in the home.
Cable tray wire is usually installed in an industrial setting where there will be little movement of the wire itself. For example, it would be used in building construction sites where the wires are attached to a tray that is then placed into the wall cavity and secured with screws or nails.
The main downside of cable tray rated wire is that it doesn't bend easily and may break if bent too much (especially after being installed). As such, it's best to avoid using this type of cable unless absolutely necessary.
Is tray cable direct burial?
Tray cables are generally installed in cable trays. But it can also be buried directly in the ground, but requires special sun protection and anti-corrosion trays.
Cable tray wire is not designed for use in direct burial applications, with the exception of HDPE (high-density chlorinated polyethylene).  HDPE has been designed and tested to meet the requirements of the UL specifications cable with an ambient temperature rating of( 85°C 185°F) for multi conductors in PVC Jacket material at 100% maximum voltage.
PVC tray Cable can be used as a high-performance alternative to other cables when compared on a life-cycle cost basis. Tray cable specs conductors are stranded copper and the insulation can be cross-linked polyethylene (XLPE). Insulation and sheathing are flame retardant and low smoke.
The insulation offers excellent chemical resistance to corrosion caused by wet conditions and long-term exposure to sunlight resistance. In addition, its flame retardant properties ensure that it will not contribute harmful fumes into the atmosphere during combustion as some other types of thermoset insulation materials might do if exposed to high heat sources.
Is tray cable flexible?
Tray cable is flexible and durable and easy to install, it provides the most cost-effective means of distributing power in high-density applications where space is limited. Even in the most difficult of environments.
TC Cable has increased tremendously in recent years. There are many reasons for this. It offers many benefits over other types of wiring systems.
It is also possible to use tray cable types as a temporary connection between solar panels and inverters controllers. This can be useful if you want to temporarily connect your solar panels together so that they can share one single inverter or charge controller during installation or testing before they are permanently connected together in the field.
Where to buy tray cable?
ZW Cable is your best tray cable manufacturer in China. We have our own factory and can provide you with the most competitive price and service.
ZW Cable is a professional manufacturer of tray cable, we can provide special offers including flexible tray cable, aluminum tray cable,  PVC insulated cable, instrumentation cable, and so on. Our products are widely used in electrical appliances, communications equipment, automotive electronic products, and other light industrial applications. We are also the best cable manufacturer in wire and cable.
We are committed to supplying customers with high-quality wire cable products at competitive prices. We look forward to your inquiries