According to IEC, GB, UL Standard
Approved by CCC, SGS, BV
Free Sample
Accept MOQ
A Speaker cable connects the amplifier and speakers, which circulates a much larger current signal than the previously mentioned video and audio wires. Because the signal amplitude is vast, these lines are often not shielded. For this wire, the key is to reduce its resistance because the output impedance of modern amplifiers is very low, so the requirements of the speaker wire are also increased, such as the use of a large cross-sectional area or multi-strand stranded wire.
Conductor:Copper/CCA
Insulation: PVC
Color of outer sheath: Red/Black, Blue/Black, Transparent
| | | |
| --- | --- | --- |
| Model | Section MM2 | OD |
|    10GA X2C | 5.26MM2 | 5.5X11.0MM |
|    12GA X2C | 3.31MM2 | 4.5X9.0MM |
|    14GA X2C | 2.08MM2 | 3.5X7.0MM |
|    16GA X2C | 1.31MM2 | 3.0X6.0MM |
|    18GA X2C | 0.823MM2 | 2.5X5.0MM |
|    20GA X2C | 0.519MM2 | 2.2X4.4MM |
|    22GA X2C | 0.324MM2 | 2.0X4.0MM |
|    24GA X2C | 0.205MM2 | 1.8X3.6MM |
Speaker Cable: Help Choosing The Right Cable Gauge
The speaker cable allows an electrical connection between loudspeakers and audio amplifiers is made via speaker wire. Modern speaker cables are made up of two or more electrical conductors that are each individually wrapped in rubber or, less frequently, plastic insulation. Although the two wires are electrically identical, they are marked to show which is the proper polarity for the audio transmission. Speaker wire is most frequently found as zip cord.
Inductance, capacitance, and resistance are all absent from the ideal speaker wire. The electrical resistance of a wire is related to its length and inversely proportional to its cross-sectional area, so the thinner and shorter it is, the lower the resistance (except superconductors). The performance of the wire is most significantly impacted by its resistance.
1. What Speaker Cable Do I Need?
To connect to speakers, amplifiers, or audio/video (A/V) receivers, you need speaker cables of gauge 12 to 16. This is because these speaker cables incorporate resistance, inductance, and capacitance properties. Making them the best. An effective speaker wire should then apply cross-sectional cuts, conductivity materials, and length.
Speaker cables come in different gauge numbers. The lower the gauge number, the thicker the wire. While the higher the wire gauge number, the thinner the wire. So, while acquiring a speaker wire, it is important to ensure that it is of the right thickness. This is because the speaker cable's thickness affects the resistance of the speaker circuit.
Besides, different materials' inclusion matters. This is because of the effect of the sound projection and resistance.  The speaker cables' usage conductors are copper, tinned copper, and CCA. Copper is the most common type of material used due to its affordable price, and its low level of resistance.
Furthermore, in the case of bass and other frequencies, a bi-wire is the best. This is for both the quality of sound and minimizing loud disruptions. This lean double connection is able to cut the loudness that degrades the sound. Also, they should be hazardous substance-free with necessary certification and approvals. This means they are of high quality and resistant to fire, sunlight, and water.
Nonetheless, for audio speaker wires, speaker cables should be easy to install. Also, they should consist of transparent print legends and footage highlights.  Besides, they should be flexible, durable, reliable, cheap, and long-lasting. Which makes them almost fit 80% of different implementations.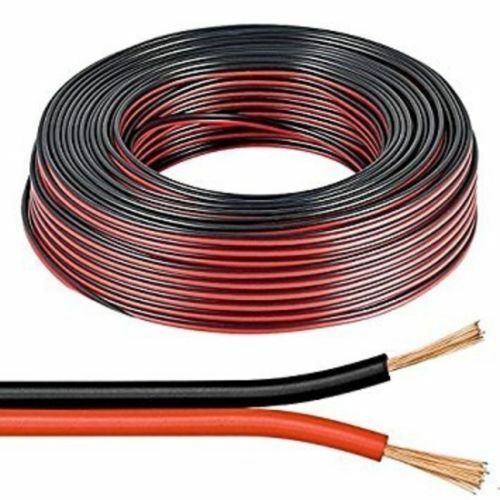 2. How to Choose the Right Type of Speaker Cable?
A cable inclusive of a 16-gauge speaker cable is identified by American Wire Gauge (AWG) numbers. So, in selecting the correct cables, either the flat speaker cable, the transparent speaker cable or any other type of audio wire, you need to be clear on what you need. For long wire runs and supreme strength implementation. 14- gauge or 12-gauge wires are recommendable. Also, for low impedance speakers 4 or 6 ohms.
Before you choose a cable, it's imperative to figure out the size you need. To achieve this, you need to measure from an amplifier area to each speaker location. You can use a string or an inch ruler to carry out the sizing process and add more feet for slacking.
It is also essential to define and focus on the selection method. This helps you in picking the correct types of audio speaker cables, ofc speaker wire or sound wire. You can choose a speaker cable wire with or without connectors. The ones without connectors will need a connector to avoid risking lives. So, connecting bare wire ends to a home theatre receiver is a real pain instead you can use shielded speaker cable.
Identification of wire placing also determines whether you choose the right speakers cable. For example, if you intend to install your speaker cable outdoor. The direct burial wires are recommendable for outdoor speaker cables. This particular type of installation requires the utmost four-cable connector.
Also Read: Outdoor Electrical Cable: A Free, All-Inclusive Buying And 'How To' Guide
For short runs that are less than 50 feet to 8 ohms speakers, 16-gauge wire is a perfect choice. It is available, easy to operate with, and affordable. Furthermore, guidelines are always available if you are unsure of what wire to choose.
Whether you intend to run sound cables on your wall or ceiling, you must have the best sound cables. The high-quality ones give the brilliant bass and perfect sound that meet your needs.
With these choosing methods, you are in an excellent position to decide the type of cables you need. But it would be marvelous if you chose a speaker wire cable that has been well manufactured. It is thus important to examine the originality and audibility of the cable. This is to ensure that you end up with a quality speaker cable from an authentic manufacturer.
3. How To Make Speaker Cable?
Designing your speaker cables is not hard as long as you have guidelines and ideas. The following are what you need when making Speaker cable: 10-14 gauge of speaker wire, ensure you have both red and black conductors, consider CL two- three rated wires, you also need a tech flex and 8mm cable pockets to fit 14 gauge and finally banana plug.
The best way of understanding the worthiness of speaker cable prices is by at least making yours. This way you will be able to tell the pricing differences as realized from the cost of materials. This requires you to first picture the final outlook of the final product.  The following are steps to use:
Take out the speaker wire and cut it to length. 4inches longer than whatever size you need is mostly recommended.
Cut the speaker wire up to the desired length
Take the end of the tech flex, remember its flexible and expandable via speaker cable. Keep pushing in the wire through tech flex until you get it all the way through.
The next thing after the first three is to dismantle the extension cables. It only requires the segregation of the outer wires, and the rest will loosely distich themselves.
Place the cable pocket on the front-end part of the tech flex and ensure it fits well.
Then bring the cable together via the weaving method. Braiding is the standard and easy way of performing this action.
Afterward, trim the ends up with wire cutters, and install and incorporate the terminus by adding a banana plug as a protector. Ensure you twist the edges of wires tightly and later measure where there is the separation of cables as the paracord sections.
Finally, you must check or examine using a multimeter before connecting to your central stereo systems. It is to see whether it's operating; you as well troubleshoot when testing it.          
4. What Is the Difference Between Speaker Cable and Electrical Wire?
The speaker and electrical wire rely upon electrical energy. It is also possible to use them in place of one for the other.  Apart from a few differences.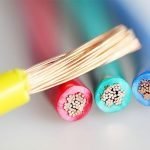 All other speaker cable elements operate as electrical wires and vice versa. Under different circumstances, speaker cable wires can work as electrical wires This is for wiring low-current systems such as doorbells, and landscaping lights.  Sound cable has a low voltage electric current outcome. Which makes it fit in the same grade as that of electrical cables. Both are made of copper wires, which are good conductors of heat.
But, with restrictions, electrical wires can be utilized as speaker cables. Confined electrical wires work best for speaker cables. This is because they have clear sound audibility and are flexible.                                                                            
Below are some other differences:
Electric wires can be found in both stranded and solid forms, whereas speaker wires are stranded.
Speaker wires mostly handle low voltage current, however, some electric wires are made for high voltage current.
Electrical wires have insulation ratings to overcome volts stresses, while speaker cable wires' voltages rely on the amplifier output. 
Electrical wire incorporates a particular ampere (amp) circuit, and the working cables do not merge with speaker wires.
Both speaker cables and electrical wires are classified similarly by AWG number.
They both have the same strong resistance to the gauge.
The Speaker cable, the same as the electric wire, has positive and negative wires to form an accomplished circuit.
Unlike electrical wire, some audio speaker wires have translucent material, providing an easy preview.
Electrical wires do not have polarity like speaker wire cable, allowing them to work as electric wire. 
 5. Speaker Cable Vs. Instrument Cable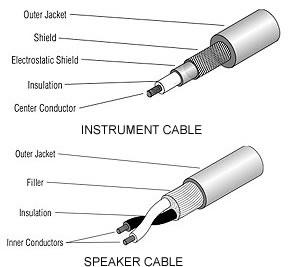 Speaker cable and instrument cable are different as one may not work the other. A sound cable depends on two wires to hold its signals. In contrast, the instrument cable relies on its signal cable and a shield for holding level signals.
Speaker cable has a copper core covered in pvc, along with connectors made of copper or cca, while the Instrument cable has High-end cables, like the C20P shielded guitar wire from Carvin Audio, which use an oxygen-free copper core to maximize signal transmission and slow copper deterioration.
Instrument cables are made to only transmit low-level audio signals between devices. The speaker cable is designed to transmit high-level signals such as from an amplifier to a speaker.
Instrument cables are shielded with much smaller wires, but speaker cables are unshielded with larger wire gauges. This is the main distinction between the two types of cables.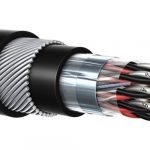 In a high impedance setting, shielding is crucial for instrument cables that link your instrument to the amplifier. Shielding encloses and "shields" the signal cable to lessen interference from surrounding gadgets and radio signals. Since the signal from your amp is so huge and the impedance of your speaker is so low, any additional RF noise and outside interference will not be noticeable, speaker connections do not need to be shielded.
Below are some differences that make and exhibit both speaker cables and instrument wires for distinguished reasons:
Instrument cables are structured to transmit low-level sounds signal from one piece of equipment to another. In contrast, the speaker wire cable is structured to hold the audio signal from an amplifier to the speakers.
Instrument cables are made to only transmit low level audio-signals between devices. The speaker cable is designed to transmit high-level signal such as from an amplifier to a speaker.
The Speaker cable price is lower than that of an instrument cable.
An instrument cable relies on pickup vibration to form an electrical current, while the speaker cables depend on sound to start.
An instrument cable has an advantage because it has a shield that lowers the audio, while a speaker wire has no security even though some are

shielded cables

.
A speaker cable, in this case, has high currents and volts compared to instrument cables that are for relatively low or weak signals, such as guitar pickups.
6. Where to Buy Speaker Wire?
In these current times, you are lucky to find various places where you can purchase speaker wires easily. The first straightforward thing is googling speaker cable manufacturers near you, and you will get uncountable shop directions. You can also visit other online websites to see what best they offer.
Regarding this, different speaker wire manufacturers have additional measures. But, we at ZW cable are a perfect example of a professional speaker cable manufacturer. We provide our customers with their cable needs across the world. You only need to contact us or enquire through our website and make your order. You will get the best speaker cable brands, transparent speaker cable, bulk speaker cable, and shielded speaker cable among others.
Nevertheless, it's worth noting that there are different audio speaker wires, 2 core speaker cables, and cable speaker manufacturers and suppliers. It's also critical that when buying speaker cable to pick quality speaker cable, sound cable manufactured by a valid manufacturer.
So, it is wise not to rely on or restrict your website's search findings for speaker wire cable to general marketplace vents. But it's best to be cautious on the steps you make in consideration of speaker cable manufacturers. You do not have to waste your money; you will require a loudspeaker that suits your desires.
Yes, you can easily place online orders with a dependable and valid manufacturer. A manufacturing company will deliver the quality sound cable to your landing place of choice. One that will make see the worth of that particular speaker cable price, not the loss.