According to IEC and BS Standard
 LSZH Cable
Approved by SGS, BV, CCC
300/500 V
Fire Alarm Cable: A Comprehensive, Meticulous, Expert-guidepost
A Fire Alarm Cable is undoubtedly the most overlooked electrical wire. Quite frankly, the fact that most of us disregard the value of this type of electrical cable is immeasurably confusing. Why do I find the fact that most of us lack meaningful knowledge concerning fire alarm cables to be confusing?  Well, fire alarm systems are the cornerstone of every building's security system.
 The electrical wiring that powers such systems delivers the core structure upon which a building's security is based. Considering that the safety of most assets hinges upon the functionality of this type of cable, shouldn't we know more about it? Sadly, most of us are totally clueless about our fire alarm systems and the electrical wiring that enables them to function optimally.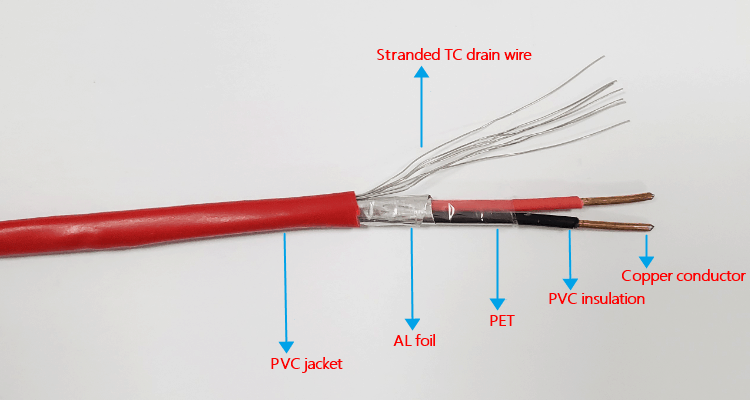 A significant proportion of Fire Cable technologies have not undergone any advancement in the last ten years even though alarm system technology has improved drastically. This being said, we still need to update our pouch of knowledge concerning Fire alarm cables. Are you worried about where to kick off your knowledge-seeking mission? Well, consider yourself lucky because this post is the best place to start.
1.What is alarm cable?
Everybody knows what a fire alarm system is because it saves lives during fire emergencies but most people do not know what a fire alarm cable is. Well, it is the mainstay of any operational fire alarm system. Its core function is to transmit signals from one room to another whenever there is a fire emergency. 
It is the central component of a fire alarm circuit. What does a fire alarm circuit do? Ideally, it regulates and powers several lifesaving applications including safety functions, elevator capture and cessation, doorway release and inhibition control. To put it simply, it plays a critical in all fire safety issues.
Most people mistakenly assume that any electrical cable can be used in a fire alarm circuit. In reality, there are certain types of cables that are specifically designed for fire alarms. More importantly, there are different fire alarm cable types. Consequently, when shopping for a cable to be used on a fire alarm, it is advisable to consider the fire alarm cable specification very carefully.
2.What Type Of Cable Is Needed For Fire Alarm?
When it comes to fire alarm systems, it's prudent to focus or reliability. What are the core characteristics of reliable cables that can be used in a fire alarm system? Well, cables installed on walls are a great way for a fire to spread. Consequently, the most important feature of a reliable fire alarm cable is its ability to prevent the spread of fire. When choosing an appropriate cable for your fire alarm system, you need to comprehend and compare all available options in order to settle on the most reliable option. What are options are available for fire alarm cabling?
Well, there are two types of fire alarm cables namely, power-limited and non-power limited cables. However, non- power-limited cables have become obsolete owing to the fact that power-limited cables are more advantageous.  Power-limited cables function within the 24-Volt DC range.
 Regardless of the type of fire alarm you are using or the fire alarm price, there is a significant chance that you will find a power-limited cable that suits your alarm system cabling needs. There are four types of power-limited fire alarm cables that you could choose from but FPLR and FPLP shielded fire alarm cables are the most ideal options. Both cables are fitted with aluminum polyester foil shield and drain wire that acts as protection against external interference.
That being said, there are several components of a fire alarm circuit.  When planning to buy a fire alarm, you must have gone through a detailed fire alarm price list. Have you been asking yourself why fire alarm prices vary? Well, the answer is quite simple. Components vary depending on the type of fire alarm. 
Thus, it is important to carefully consider the type of fire alarm you are using. For instance, if your system uses an end of line resistor system, an alarm cable 8-core is the most ideal option. However, if you do not use an end of line resistor, you could simply settle for a 6 core alarm cable considering that it is less costly.
3.When to Use Shielded Fire Alarm Cable?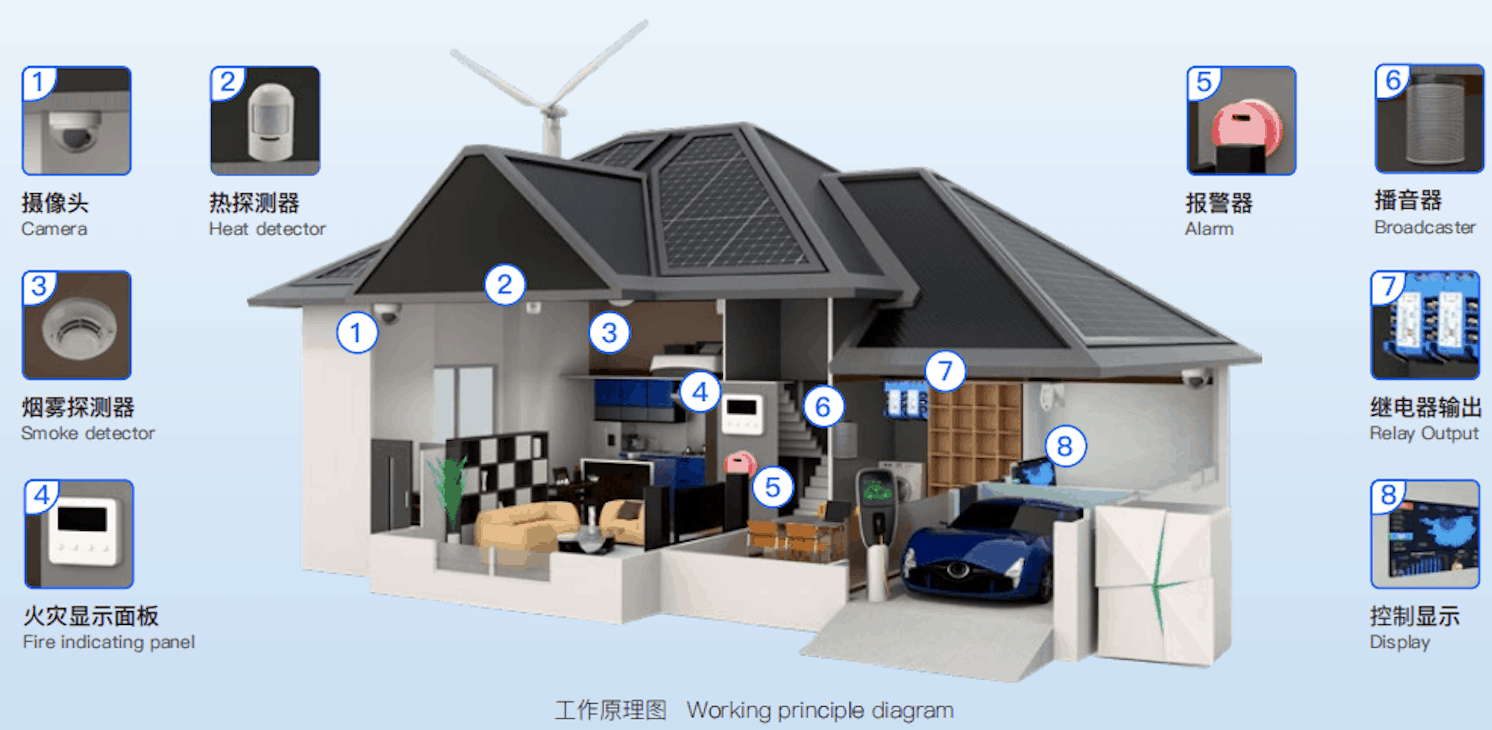 There is no code that dictates that shielded cables must be used in fire alarm wiring otherwise fire alarm cable manufacturers wouldn't have been manufacturing unshielded cables.  Nevertheless, it is advisable to go through your fire alarm manual and find out if its manufacturer recommends the use of a shielded fire alarm cable.
Generally speaking, shielded fire alarm cables are only necessary when combating noisy Electromagnetic Interference (EMI) or when installing exceptionally long cable runs.
4.Does Fire Alarm Cable Have To Be Red?
Ideally, fire alarm cables should be red in color in order to make it easier to identify fire alarm circuits. However, they don't necessarily have to be red. You can always choose to use another form of colour-coding. You can get an armored fire alarm cable in a different color variation. Is there any difference between a white cable and a red cable? Well, the answer is no. It is totally analogous to a red armored fire alarm cable and also, equally effective.
Nonetheless, if you choose to use a different color for your fire alarm system, it has to be consistent throughout the system. More importantly, the color of the chosen fire alarm cable should be entirely different from other electrical wiring systems for easy identification. It is also important to note that there are several other stipulations that must be followed when installing fire alarm systems. 
For instance, fire alarm cabling needs to be isolated from all other electrical services and fire alarm cable support tools such as cable ties must be metallic. Quite frankly, when dealing with fire alarms several considerations that extend beyond the cable itself need to be made. Consequently, it is advisable to go through a fire alarm cable installation guide even before you make any decisions.
5.What is the difference in fire alarm cable and regular cable?
   What happens when plain PVC is exposed to fire? Obviously, it will catch fire and burn. Now, imagine what happens when to ordinary PVC insulated cables when they come in contact with fire. Of course, the cable will catch fire and interfere with the integrity of the fire alarm system. You get the idea, right? A fire alarm cable is different from a regular cable in the sense that it has a much higher fire-resistance rating. Ideally, it can continue to function appropriately during a fire at least, for a reasonable amount of time.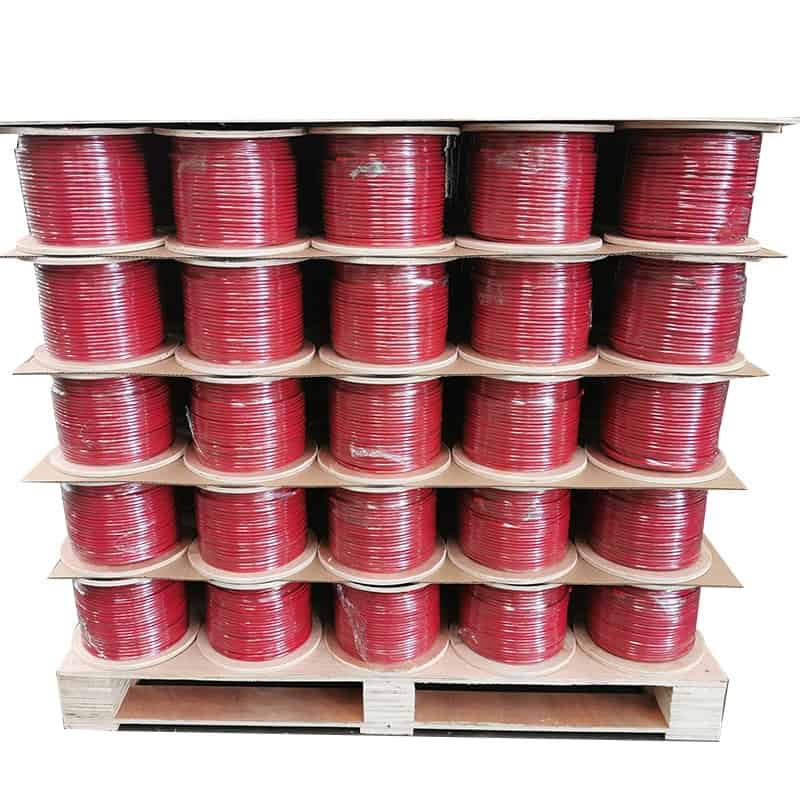 However, it is important to note that alarm cables are governed by the same rules that dictate the use of regular cables. For instance, just as you can't bury an indoor-rated cable outside, you specifically need an underground fire alarm cable if you intend to do some underground wiring for your fire alarm system. To put it simply, just like regular cables fire alarm cables are not one-fits-all. You need to carefully consider various factors such the type of alarm system and installation location before selecting an appropriate fire alarm cable.