According to IEC 60502-1 and GB Series Standard
Flame Retardant & LSZH & PVC
Approved by IEC, CCC, GB
Large stock solid  wires with different sizes
Solid core wire can be  applicable to AC voltage 450/750V and below. For example solid core cable can be used such as household appliances, instruments and telecommunications equipment with cable and wire.
| Nominal section(mm2) | No./dia. of core(mm) | Average dia.(mm) | Reference weight(kg/km) | Conductor resistance at 20℃(Ω/km) |
| --- | --- | --- | --- | --- |
| 1.5 | 1/1.75 | 3.5 | 20.6 | 12.1 |
| 2.5 | 7/1.73 | 4.2 | 33 | 7.41 |
| 4.0 | 1/2.22 | 4.8 | 48 | 4.61 |
| 6.0 | 1/2.74 | 5.6 | 68 | 3.08 |
Conductor: Solid Copper Wire
Insulation: PVC, LZSH
Insulation Color: Red, Yellow, Blue, Red ,Yellow-Green etc
Voltage: 450/750V
What is solid core wire?
Solid core cable is a smaller cross-section. It is resistant to short-circuit current impact and it is not easy to oxidize. The service life solid wire should be longer. Solid single core wire is hard. It is not easy to install.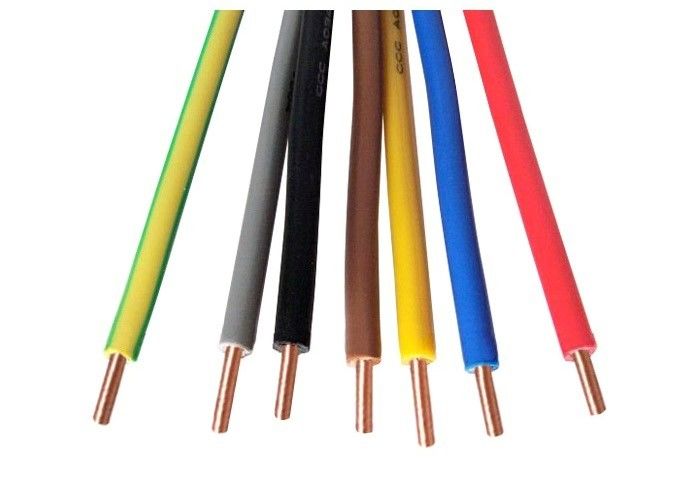 solid core wire vs stranded
After the copper stranded wire through the tube, the switch box in the wire joints electricians generally can not do the standard specification, according to the standard specifications for electrical installation, stranded wire joints need to crimp or welding. This point shows that the solid core cable is better.
Which gauge of solid core cable you can produce?
As a cable manufacturer, we can produce 18 gauge solid core copper wire, 20 awg solid copper core wire,22 gauge solid core wire, and 30 awg solid core wire. We can also produce cable according to your standard.
Which wire can carry a higher current stranded wire or solid wire?
In the same cross-section of the stranded wire is loading larger than the solid wire. The maximum current is almost 100A in our house. It is possible to use solid core cable. The stranded wires have multicopper strands, after a few years, it will oxidize. And stranded wire production costs are higher than copper solid wire.