According to UL Standard
PVC
Approved by UL, CCC, CE
7 different colours
7 wire trailer cable covered in a high-quality PVC sheath that is essential for braking and safety systems. 7 core trailer cable protects the conductors from oxidation and the cable is very flexible, so it can withstand cold and abrasion.
Seven Conductor Colors: Red, Yellow, Black, White, Green, Brown, Blue
Conductor: Class 5 copper conductor 
Insulation: PVC
Sheath: PVC
Sheath Color: Black
7 Core Trailer Cable
7 core cable and referred to as 7 core 7 wire trailer cables are manufactured of ZW cable. The copper conductors covered by a flexible PVC sheath. The primary internal cables are the single conductor and therefore are colour-coded to business standards.
7 wire trailer cable is great for wiring trailers and trucks because of its durability and higher resistance to cracking, abrasion, oil, acid and natural elements. Choose 7 wire trailer cable today with no cost and same-day delivery, find the ideal trailer cable for the application today!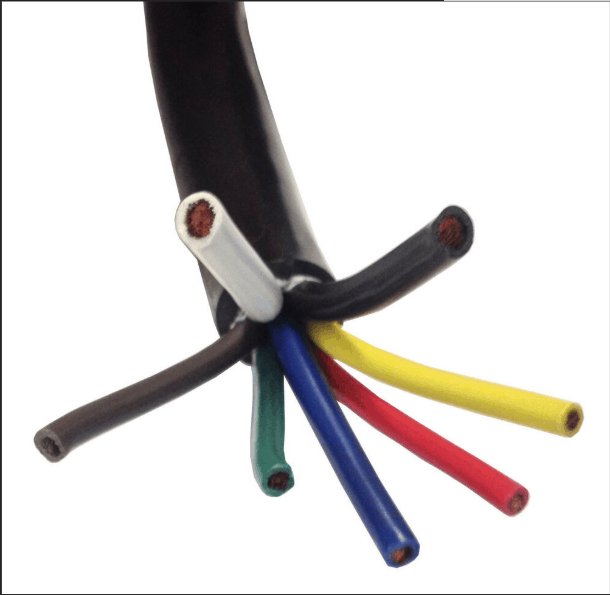 7 conductor trailer wire
7-core trailer wire consists of seven (7) conductors in different sizes to accommodate a variety of different applications. The individual conductors are stranded copper wire and are colour-coded for easy identification.
7 wire trailer wire color code
All 7 core trailer cable colors are red, yellow, black, white, green, brown, blue. The sheath colour is black. We can also produce other colours according to your requirements. The most common sold gauge is 14 gauge trailer wire. We can also produce other gauge wires according to your project requirements. Our packaging is usually 100 meters for one reel, and we can produce it as a 500ft roll according to US standards.
We can accept OEM, and we can also print your company name and logo on the wire. 7 wire trailer cable temperature rating is -40°F to 185°F, -40°C to 85°C. ZW Cable specialized in manufacturing and producing 7 wire trailer wire, we will provide the best technology and competitive price. We will also provide free samples before you order. Choose ZW as your trailer wire cable supplier.