According to UL Standard
PVC
Approved by UL, CCC, CE
7 different colours
7 wire trailer cable covered in a high-quality PVC sheath that is essential for braking and safety systems. 7 core trailer cable protects the conductors from oxidation and the cable is very flexible, so it can withstand cold and abrasion.
Seven Conductor Colors: Red, Yellow, Black, White, Green, Brown, Blue
Conductor: Class 5 copper conductor 
Insulation: PVC
Sheath: PVC
Sheath Color: Black
What is 7 Core Trailer Cable
Most people aren't completely sure what a 7-wire trailer cable is. Despite being a multi-pole electrical connector connecting your towing vehicle to your trailer, this cable is mainly used to supply automotive lighting on your trailer and management to other consumers. Also known as trailer wire or trailer connecting cable, it can provide feedback from the towing vehicle to the trailer. These can range from simple fault indications for your ABS brakes to sophisticated command, monitor, and control using a CAN bus.
Trailer cable, also known as trailer wire, is a wiring cable manufactured with multiple general-purpose wire conductors, each with its own insulation and color-coded to meet industry standards. It is typically used for wiring vehicles, trailers, and trucks, and is extremely durable. 7 wire trailer cable is perfect for ABS applications. It comes in seven different gauge sizes, and is made from automotive-grade wire. These wires are each insulated with a thick PVC jacket and are color-coded to meet industry standards.
The connectors in the 7 wire trailer cable are identical to those used for traditional five-pin connectors, with the exception of the blue wire, which controls the brakes of the trailer. A 7-pin trailer cable is suitable for both types of trailers. A 7-wire connector is ideal for a truck with a 7-pin socket. It offers the same functionality as a five-pin flat connector, and is easier to handle. While it may be easier to install, it is possible that some custom situations leave one or more wires out.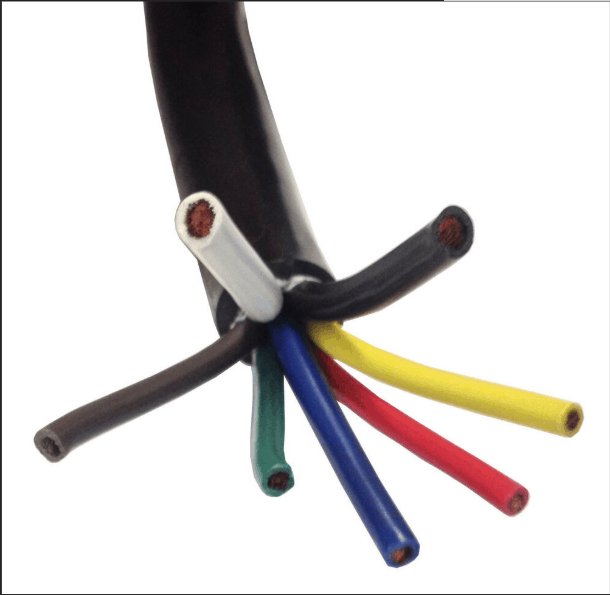 what is the color code for 7 wire trailer cable?
There are two different colors for 7 wire trailer wire. The RV industry uses the NFPA-1192 color code, while the tow vehicle likely uses the SAE color code. No matter which color code is used, the functions are the same. The yellow wire, for example, is used for the aux circuit, which controls the trailer's reverse lights. The black wire, meanwhile, is used for the 12 volt accessory circuit, which powers the interior lights and battery.
When connecting the 7 wire connectors to the trailer, you must follow the wiring diagram. A proper pinout diagram is important if you are ever in need of troubleshooting or replacement. It is best to keep a reference guide to the wiring diagram, as the colors may vary from one trailer to another. The diagram also shows you what kind of connector you need for your particular trailer. Most trailers use the 6 or 7-pin connectors.
There are a few colors used in five-pin trailer connectors. The white and brown wires are grounded, while the green and brown wires serve as brake and turn signal lights. The green wire is used for parking lights. The red and yellow wires are used for auxiliary power and reverse lights, and are often used for brakes. There are a lot of uses for a trailer wire, so it's important to understand its color code before you purchase one.
What is the price for 7 wire trailer wire?
7 wire trailer cable is a great way to safely attach your vehicle to a trailer. This type of wire has 7 gauges in varying lengths. The wire is color-coded for easy identification. It is also ideal for ABS applications. Whether you need it for a car, truck, or trailer, you can find the right type for your needs. The price of 7 wire trailer wire will vary based on the size and gauge.
Generally, trailer wiring is used for applications where mobility and torque are high. It is different from wiring a light bulb or electrical fan. Hence, there are several factors to consider when choosing trailer wire. If you're unsure about the exact requirements of your trailer, check out the 7 wire Trailer cable Buyer's Guide. Here you can find out more about the benefits of different types of trailer wire. This will save you time and money.
You can choose to use an additional pin to connect your trailer to a car's electrical system. The price of 7 wire trailer cable will depend on the size of the trailer and the number of lights it contains. 
Where to buy 7 wire trailer Cable?
Are you in the market for new 7 wire cable? You're not alone. Many people face the same question: Where to buy it? we'll explain where you can find the best quality 7 wire trailer cable for your needs. You'll be amazed at the prices you can get when you order from ZW Cable. ZW Cable will be able to find a great price on a large quantity of 7 wire trailer cable. ZW accepts lower meters. A free sample can be tested.