According to IEC, BS, GB
Flame Retardant & PVC Cable
Approved by CE,CCC, ISO
In Stock
4mm Armoured Cable is a type of armoured cable that can be used for mains electrical supply.
This cable has been designed to meet the highest quality standards and is suitable for use in a wide range of applications, inducing:
Sockets and switches in any building
Switches and lighting circuits for ponds located outside your home
Creating a safe environment for commercial establishment
4mm 3 Core Armoured Cable Construction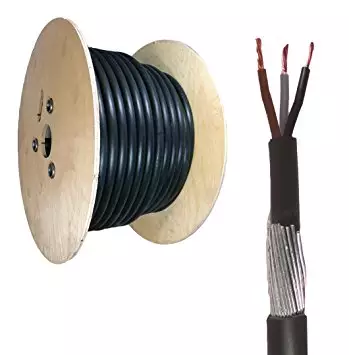 The Current rating is 34 maps
Conductors: Solid Copper
Bedding: PVC
Armour/Protection: SWA (

Steel wire armour

or

steel tape amour

)
Sheath/Jacket: PVC
The colour usually is black (Accept Custom Colors)

The maximum operating temperature is 90°C, and the minimum bending temperature is 0°C.

Overall Diameter is 17mm
4mm armoured cable price
The price of copper fluctuates daily and there is no precise price. But we can provide reference prices. Based on LME Copper 7650 per ton.
2 core 4mm armoured cable price USD 1.2 per meter.
4mm 3 core cable price USD 1.5 per meter.
4mm 4 core cable price USD 1.8 per meter.
ZW CABLE , as a professional cable manufacturer, we can produce many types of cable such as 4mm armoured cable,
6mm armoured cable
, 10mm armoured cable etc. We can send you free sample to check our cable quality. We promised our cable willl be matched your standard.