According to UL Standard
PVC Cable
Approved by SGS, UL, CE
Accept Lower MOQ
4 wire trailer wire covered in a high-quality PVC sheath that is essential for braking and safety systems. 4 core trailer wire protects the conductors from oxidation and the cable is very flexible, so it can withstand cold and abrasion.
4 colors: Brown, Green, Yellow, White
Conductor: Stranded Copper Class 5
Insulation: PVC
Sheath: PVC
4 Wire Trailer Wire:  Fundamentals And Expert Guidelines On Wiring A Trailer
A 4 wire trailer wire is an integral part of any trailer's electrical structure especially, the braking and safety systems. Nowadays, trailer wiring is without a doubt the most vilified facet of trailer mechanics. If you own a trailer or any other type of automobile, you certainly understand all the challenges associated with diagnosing wiring problems.
Once you ascertain the problem, you have to ensure that you don't escalate the situation by choosing the wrong wire. Unfortunately, most people often choose the wrong type of wire because they know little about four-wire trailer wiring. What is a 4 wire trailer wire?
This type of trailer wire is commonly referred to as the 4 core trailer wire. Essentially, it is a 4-way wire that connects and provides lighting to the tow vehicle. Without this wire, there will be no running lights, turn lights, and brake lights for the trailer. Can you imagine the level of risks you will be exposing yourself to if you drive a trailer that doesn't have such safety requirements?
This wire plays a vital role in safeguarding your security as your drive your trailer on the road. Don't you think it is essential to acquire knowledge about it? It is practically impossible to learn everything a 4 wire trailer wire in one reading. However, this post is an excellent starting point. It will freely help you become part of a select few knowledgeable individuals.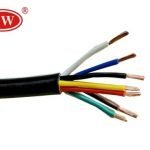 Leading Cable and Wire Manufacturer-ZW Page Trailer Wire According to IEC 60092-3 Series Standard
Read More »
1. What Is The Color Code For A 4 Wire Trailer Wire?
As I mentioned earlier, a 4 core trailer wire connects your trailer's running lights, turn lights, and brake lights. Most people face significant challenges when installing a new trailer circuit or troubleshooting a trailer wiring problem. If you are one of them, the solution to your problem is simple. All you have to do is interpret the 4 wire trailer wire color coding, and you will be good to go. Why is it important to comprehend the cable's color code?
The wire's color code offers guidance on where a specific wire goes and what it does. Your connection will not function appropriately if you don't interpret the color code correctly. Each conductor in the 4 conductor trailer wire has a specific color. What are the colors of a 4 core trailer wire, and what does each color mean?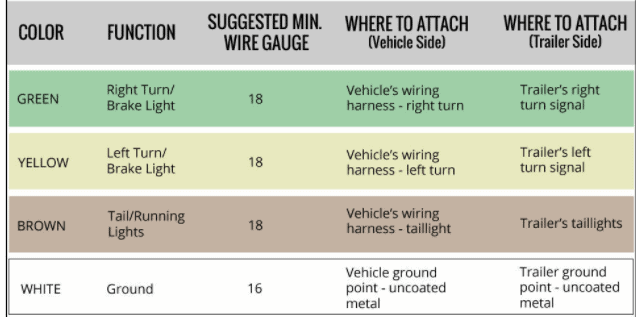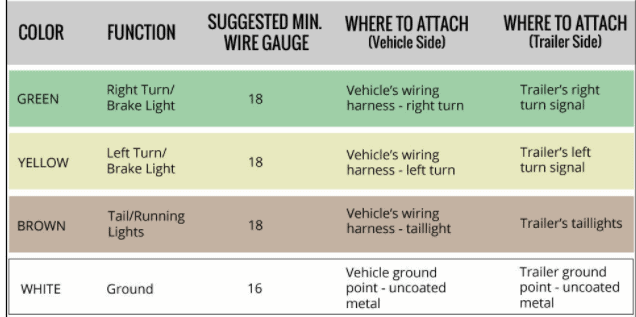 The four colors that make up your 4 wire trailer cable's color code are brown, green, yellow, and white. Each color in a 4 wire trailer wire has a specific function. Usually, if you screw up a trailer's wiring, you will end up with a blown fuse. You don't want that to happen, do you? Here is an outline of the different roles played by each color;
Brown wire- connects the tail or parking lights
Green wire- connects the right turn signal and the brake lights
Yellow wire- links to the left turn signal and brake lights
White wire- links to the common or chassis ground
2.How to wire 4 wire Trailer Wire?
Four wire trailer wiring can be pretty menacing, especially if you are not a trained electrician. Like most people, you might not be an electrician, but that does not mean that wiring your trailer by yourself is impossible. Thanks to the elaborate color coding of trailer cables, you can easily wire your trailer. You don't have to hire a trained electrician. Once you've mxastered the color coding of a 4-wire trailer wire, the rest is pretty straightforward. Before starting the connection, there are a few essential things you need to know.
What wire gauge is appropriate for a trailer wire 4-way cable? Similar to other electrical wire types, a small gauge trailer wire might not withstand the amount of current running through it. If a wire cannot withstand the electric current, there is a significant chance that a short circuit will occur. You don't want that to happen, do you? So, you should check and confirm that the trailer wire is the appropriate gauge. Which is the proper wire gauge for your four-wire trailer wiring?
The minimum recommended gauge of a 4 core trailer wire is 18 AWG for the turn lights, brake lights, and running lights. For the ground wire, the recommended size is 16 AWG. Also, it is always important to check your vehicle's owner manual for insights before connecting the 4 wire trailer wire. The image below will guide you on how to wire a conventional 4-way harness and a 5 wire to 4 flat-connector.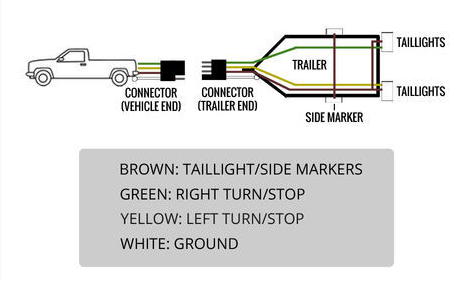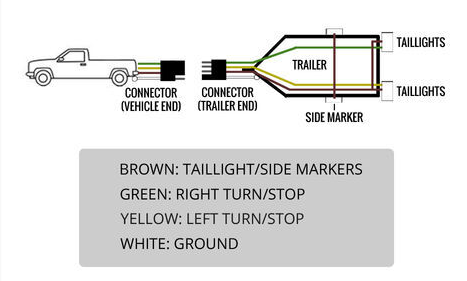 3.Why Does My Trailer Have 4 Wires?
You rely on your trailer daily for different tasks such as landscaping and construction. Can you imagine what would happen if you were to use a trailer without lights on a busy highway? Without four wire trailer wiring to provide the necessary lighting, how will you signal fellow motorists? You will get arrested for flaunting traffic regulations or, in a worst-case scenario, cause a fatal road accident.  The four wires in your trailer are there to prevent such unfortunate circumstances. A 4 wire trailer wire plays a critical role in ensuring that your tow has the necessary lighting.
That being said, it is essential to note that trailer wiring is not limited to four wires.  For instance, some heavy-duty trailers require a 7 core trailer wire.  The function of this type of wire is similar to that of a 4 conductor trailer wire. However, it has three additional conductors for a 12-Volt hot lead, electric brakes, and reverse lights.
4.Need A Trailer Wiring Diagram To Guide You?
Trailer electrical connectors tend to vary in both shapes and sizes. However, the connectors' purpose is to provide lighting to the trailer regardless of whether it is a four-way, five, six, or seven-way connector. How exactly do you connect a 4 wire trailer wire to a trailer's wiring system to provide trailer lighting?
The best way to learn how to carry out a four-wire trailer wiring process is to use a wiring diagram. Essentially, a wiring diagram provides a comprehensive color-coded guide on how to carry out your trailer wiring. However, you have to ensure that you understand the color code.  A trailer wiring diagram will not help you if you don't understand the 4 wire trailer wire color code. Please check out the wiring diagram below: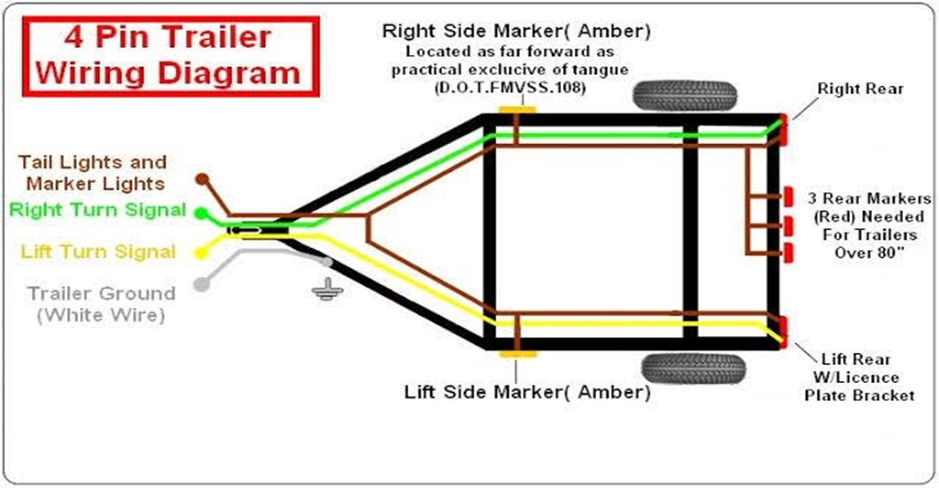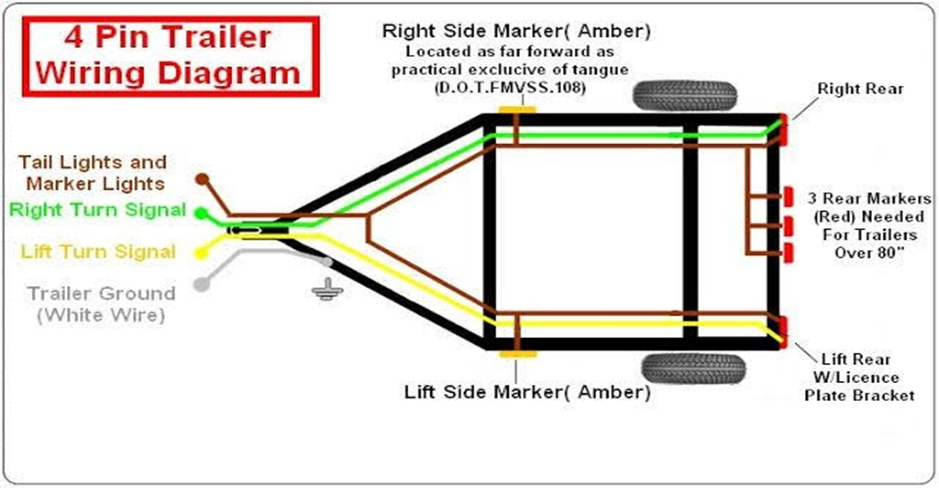 As I mentioned earlier, trailer wiring is a simple process. All you need to do is grasp all the expert tips provided above. However, if you come across certain challenges, it would be best to consult your local 4-wire trailer wire expert.