According to IEC 60092-3 Series Standard
Flame Retardant & LSZH Cable
Approved by ABS, BV, DNV-GL, LR, NK, RINA
Large stock marine cables with different sizes
Right-sourcing and right-pricing your trailer wire
When you want trailer wire, it's typically for an application that'll have plenty of mobility, lots of tension and torque and high exposure to the elements. That's because trailer wiring is a significantly different project compared to wiring an electrical fan or a light bulb. There are many more critical factors to consider when selecting, buying and installing trailer cable.
Our Trailer cable Buyer's Guide will provide you all the information you needed to know to get your trailer wiring project off to successful completion. So, let's get started!
1.What gauge is trailer wire?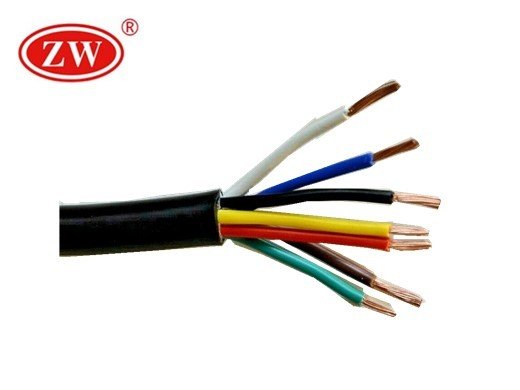 The gauge of the trailer wire you choose depends on the type of trailer, and the application for which you wire the trailer. Let's assume you are shopping for trailer cable for a 7 blade RV connector. Typically, for a 7 way trailer wire connector, experts recommend a 12-gauge wire for the Red or Black (power) wire, the White (ground) wire, and the Blue (brake power). However, 16 gauge trailer wire is the minimum recommended standard for the remaining connections, including the Brown (tail lights) wire, the Yellow (left turn/brake) wire, the Green (right turn/brake) wire, and the Purple (reverse light) trailer cable.
But your choice of trailer wiring will change if you are looking to wire a different type of application. For example, if you have a 10foot x 35 trailer, and you plan on putting a heavy load on it, you may require a more heavy duty trailer cable to support the application. As a general rule, projects such as this one typically calls for 16 gauge trailer wire. But, if the trailer is longer, you might require even heavier gauge wiring – for instance perhaps 14 gauge trailer wire might do the trick, or maybe even a 12 gauge spec might be called for.
Turning to a slightly different trailer cable application now.  If you have a 13-foot camper, and are undertaking a project such as wiring for license plate lights and two brake lights, your trailer cable size will differ from the previous two applications. Typically, if you use LED lights, then a 16 gauge trailer cable should do just fine.
But some types of lights use more power than LEDs, or you may have more lights than the "typical" trailer. In that case, your choice of trailer cable must change too. In this scenario, a heavy duty trailer wire is recommended. On a 7-way connector, for example, running more lights than usual, or lighting up several lights simultaneously calls for 14/7 trailer wire or even thicker wire, such as 12/7 gauge.
2. What size wire is trailer wire?
The trailer wire size requirements for one wiring application may differ from another. That's because the trailer size might be different, the amount of load hauled by the trainer may differ, and so might the number of lights (or other functionality) used by the trailer. In general, therefore, there's no right answer to the question "What size trailer cable is best?". Larger trailers, that haul heavier loads and use more powerful lights, may require heavy duty trailer cable.  Smaller sized trailers might be okay with using 14 gauge trailer wire or even 16 gauge trailer wire.
Generally, trailer cable size is measured by the American Wire gauge (AWG) standard. This is an internationally recognized specification that's used for all types of electrical and cabling applications, including trailer wiring. The AWG specs use an inverse numbering system, with lighter gauge cables and wires identified by higher gauge size numbers. Conversely, heavy duty trailer wire have smaller numbers.
Therefore, under the AWG scale, a 16 gauge trailer wire is of lighter (thinner) gauge than heavier (thicker) 14 gauge trailer wire. Which size (gauge) wire you buy also depends on the length of your cabling requirements and the load-bearing needs that the cable is supporting. In our chart above, for example, regardless of whether this is a 7 way trailer wire application or a 4 wire trailer cable installation, for a 1.8 meter length cable to support between 15 amps and 20 amps current load, you'll require 14 gauge trailer wire. If the requirement for that same length of trailer wiring is to supply between 5 amps and 10 amps of current to the trailer system, then a lighter gauge wire, 16 gauge trailer wire, would suffice.
What size wire you choose also depends on the specific application to which the trailer wiring supplies power.  For example, all trailers require lights, whether those are brake lights, turn signal (left/right) lights, or tail lights. Your trailer may also include features such as running lights and side markers, which also need power. You'll also need electricity for your brakes – either when actuating electric brakes or, if its hydraulic braking, to disable them when backing up.
The size of the trailer cable you choose must take those factors into account. The more features you have, the greater the amount of current (AMPS) you'll require to supply. Therefore, what size wire you buy depends on those features. 14/7 trailer wire might work with a 7-connector trailer with lesser power needs. However, you'll need heavy duty trailer wire – perhaps 10/7 or higher, if your trainer wiring intends to support more lighting or power needs.
3. How to ground a trailer Cable?
Sometimes, especially when using heavy duty trailer cable, or when working with a unique or custom-designed trailer, there may be a more "direct" method to ground trailer wiring.
The simplest approach might be to first drill a hole in the metal frame, and then place a screw through the metal rim and secure the ground wire at the end of it. This approach works regardless of what trailer wire size you use.
For a successful grounding to happen, it is vital to secure the ground wire to the metal on a trailer, so that the ground wire stays continually in contact with the trailer.
One way to ensure that happens is to first attach a ring terminal (see image above) to the ground wire. Next, drill a hole to the structure (metal trailer frame) where the target grounding will happen, and screw the terminal to it. This is best practice regardless of the trailer cable size you use, whether it's 14 gauge trailer wire or 2 wire trailer wire, or whether a 4-conductor or 7 conductor trailer wire grounding application.
A word of caution: To ensure proper grounding of the trailer cable, it's best to ensure both, the surface, as well as the wires, are clean and free of any grease, dirt or solvents. And always make sure to fasten the ring terminal as securely as possible to the grounding surface with a sheet metal screw. This may be a challenge when working with heavy duty trailer cable – but it's critical to ensure successful grounding.
4. How to install trailer wire?
The general process of installing trailer cable is the same/similar for all applications, regardless of the trailer wire size you work with. However, the specifics vary when it comes to the number of connectors your trailer wiring involves.
To correctly install 4 wire trailer wire, you'll use the following coding:
Ground = White
Tail/Running lights = Brown
Left turn/Brake = Yellow
Right turn/Brake = Green
It's important to note that, when using 4 wire trailer wire, the Left turn/Brake lights (Yellow) wire connector has "L" on it, while the Right turn/Brake (Green) trailer cable connection is indicated by "R" on it.
When using 7 conductor trailer cable, however, the installation requires some additional connections. For example, to install 14/7 trailer wire correctly, you'll initially follow the first four steps specified for installing using 4 wire trailer cable:
Ground = White
Tail/Running lights = Brown
Left turn/Brake = Yellow
Right turn/Brake = Green
Then, 7 core trailer wire requires three additional connections:
Purple-Auxiliary 12v Power/Reverse Lights/Reverse Lockout for Trailer Brakes
Blue-Brake Controller Output
Black 12v Battery Power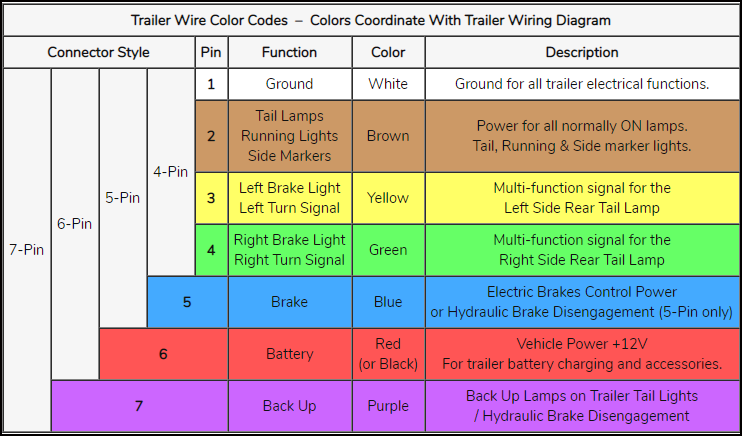 The above diagram should provide you with a good idea of how to install your trailer wiring. It doesn't matter whether the installation involves 4 wire trailer cable, a 5-wire application, 6-pin specification or 7 strand trailer cable. If you follow the pin configuration, function and color codes laid out in the chart, you'll have a successful install. 
5. How to choose your trailer wire supplier?
Through this ZW Cable Trailer Cable Buyer's Guide, we've explained all there is to know about the right type of trailer cable for typical wiring applications. You probably appreciate that, while trailer wiring may look simple to install, it only works if you choose the right size of wire. Hopefully, after reviewing our guide, you'll also understand what part color-coding plays in a successful wiring application.
It's now time to make the most critical decision related to your trailer cable procurement – whom to work with to source the right wire? As you've seen from our Trailer Cable Buyer's Guide, there's so much riding on your choice of wire. Choosing a lighter gauge cable, instead of a trailer cable, maybe a huge safety risk to your project. Similarly, choosing a manufacturer that isn't experienced in manufacturing 16 gauge trailer wire, but only produces lighter gauge wire, might jeopardize the success of your installation.
 We have experience in the manufacturing of a broad variety of trailer wiring.  From 7 core trailer wire to various gauges of marine trailer wire; and from lighter gauge cables to heavy duty trailer cable for higher-end applications. Best of all, our highly competitive prices mean your installation is always within budget – guaranteed!