According to IEC 60092-3 Series Standard
Flame Retardant & LSZH Cable
Approved by ABS, BV, DNV-GL, LR, NK, RINA
Large stock marine cables with different sizes
Car battery cable is mainly used for car batteries. Because the wire is very soft, friction resistant, high temperature resistant and other advantages. Let many people are willing to purchase this product.
             AREA                 0(mm2

)
Conductor: Copper Or tinned Copper Wire
Insulation: PVC
Voltage: 450/750V
Gauge: 10, 8, 4, 2, 1/0 and 2/0 AWG
COLOR: Red, Orange, Black, Blue, Grey
Car Battery Cable: 5 Essential Instructions on How to Choose the Correct Cable
If you have problems starting your vehicle, it is time to start shopping for a new Car battery cable. Most of us think that this type of cable is indestructible. However, the truth is that it is one of the most destructible parts because it often comes in contact with battery acid.  How many times have you serviced your vehicle but failed to check its condition? 
Most people know little about it due to the misled notion that it doesn't need regular check-up and replacement. Considering that this type of cord plays an important role, you have to ensure that you choose the right one. Then again, how can you choose a suitable battery cable replacement if you have little knowledge concerning such cables?
Logically, it is difficult to choose an appropriate product if you lack significant knowledge about it. Thus, if you intend to buy a car battery cable, you have to source some knowledge about it. You can choose to do hours of research to find the most appropriate wire or simply read this post. By the time you finish reading through it, you will have acquired all the necessary information to guide you in choosing an appropriate car battery cable.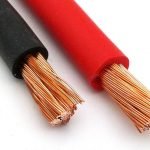 Battery Cable
Leading Cable and Wire Manufacturer-ZW Page Battery Cable Class 5 Copper ConductorFlexible and DurableApproved by IEC, GB, RohsPVC,
Read More »
1. What Gauge/Size is a Car Battery Cable?
As I mentioned earlier, a vehicle's battery cable wire is one of the most crucial battery management system constituents. To avoid any starting problems or any sporadic electrical issues in your car, you have to pick an appropriately-sized car battery wire. Why is this important? If you choose an ill-sized wire gauge, you will create more problems instead of solving the existing ones. 
For instance, an overly thick gauge often prevents proper current distribution, whereas an extremely thin gauge can short-circuit the engine. So, to evade such disruptive circumstances, you have to choose a cable whose size suits the specific vehicle's electrical system. What is a cable gauge?  A gauge simply refers to a conductor wire size either in terms of its diameter or cross-sectional area. How do you choose the correct car battery cable gauge?
First, you have to note that there different car battery cable gauges. It would be best if you made a choice based on the prerequisites of your vehicle's electrical system. Electrical systems tend to vary in terms of amperage, and the chosen gauge determines the amperage supplied by the wire. 
For example, a 2 gauge battery cable is suitable for low voltage DC electrical systems. An attempt to use this type of cable in a high voltage system will result in a catastrophic engine failure. Thus, it would be best if you took your time and considered all possible options before selecting an appropriate car battery wire. The charts below will guide you in choosing the most suitable gauge for your car's electrical system;  Please check the marine battery cable size chart as below:
Also read:  Marine Wire-A Perfect Option For Your Underwater Networking Needs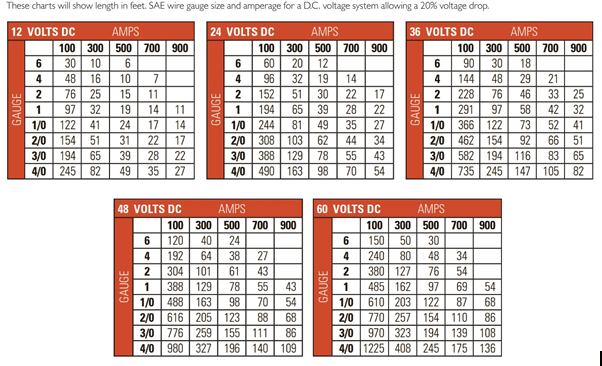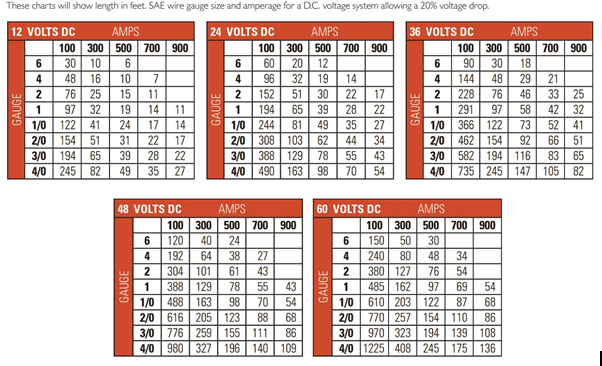 2. What size is the standard car battery cable? 
Generally, vehicles have different types of battery cables and electrical systems. Thus, it is inappropriate to assume that there is one standard size of cord that suits all vehicles. However, car batteries generally operate with a 12v battery cable. So, the question you should ask is which car battery cable size is suitable for a 12-volt power supply.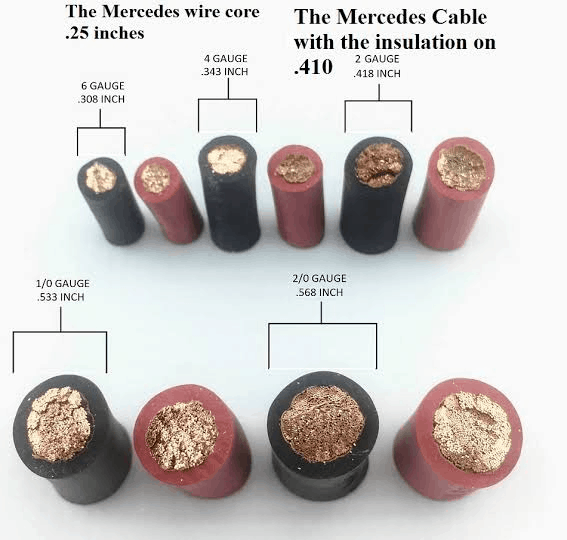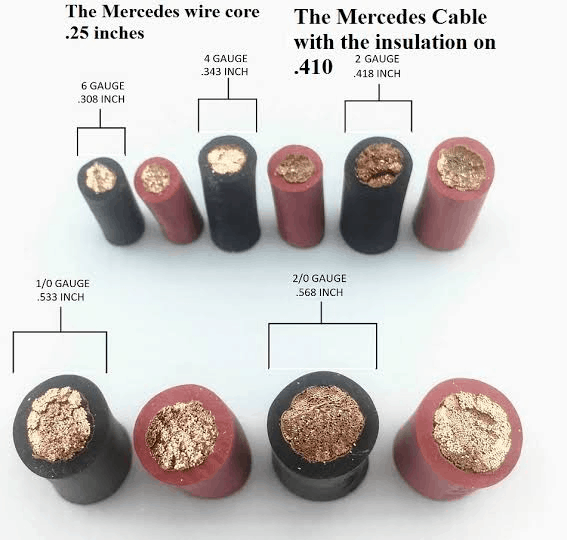 Ideally, a 6 gauge cable is the best option for a 12-volt power supply. This automotive wire can sustain a maximum of 60 volts and is ideal for 12-volt electrical systems. More importantly, it meets all requirements of the Society of Automotive Engineers (SAE) specification J-1127. Why is it important for any car battery wires? Well, it is a universally recognized quality indicator. How would you feel if somebody attempted to convince you to buy a product that doesn't have a mark of quality? Any wise individual that values his money will always consider the quality rather than the car battery cable price. Therefore, you should always watch out for it.
3. How to connect a car battery?
Maintenance-cognizant vehicle owners are aware of the fact that batteries have to be replaced from time to time. However, most people don't know that connecting and disconnecting a braided battery cable is a systematic process. You can't just attach or detach the negative and positive terminals haphazardly. Failure to follow the proper procedure during connection may result in a car battery explosion. Logically, nobody wants that to happen, mainly because long battery cables for car are expensive. So, which car battery ground wire should you connect first to avoid any explosion?
It is always advisable to connect the positive cord before connecting the negative battery cables. What would happen if you were to interchange the order of connections? Well, to put it simply, you may have to dig into your savings to purchase a new car battery. You have to work with a wrench when connecting a car battery power cable.
 If you attach the negative cord first, there is a chance that the wrench will accidentally complete the circuit. When this happens, there is a significant chance that the battery will generate a dangerous spark. Consequently, you should always follow the correct procedure or seek expert assistance when connecting your car battery cable.
4. Which Cable Battery to Disconnect First?
As I explicitly mentioned above, the process of attaching and detaching a battery wire has to be methodical. Any haphazard connection or disconnection often results in dire consequences. You might end up with a blown battery or, in the worst-case scenario, a physical injury. Hence, which car battery cable should you disconnect first to be on the safe side?
It would be best if you always detached the negative cable first before disconnecting the positive cable. Otherwise, you might accidentally trigger a dangerous spark. How do you differentiate between a negative and a positive wire?  Well, it is pretty simple. The car battery's red cable is always the positive cord, whereas the black one is negative. If you doubt your ability to disconnect the battery code, it would be best to seek an expert mechanic's services.
5. How to Replace a Car Battery Cable?
As indicated earlier, there are several reasons why you might want to replace your 35mm battery cables. Corrosion and resistance build-up are the most common justifications for car battery cable replacement. Here is a step-by-step guide on how to replace your battery cable wire;
First, you need to scrutinize the battery components before you do anything.
After locating the positive and negative terminals, detach the negative cable first
Next, detach the positive wire for car battery and carefully eject the battery from the engine compartment.
Once the battery is safely removed, trace back the cables to where they are connected to the car's frame. Carefully disconnect both of them.
Proceed to attach the replacement cables to the car frame and use both hands to put the battery back to its slot.
Clean the battery's terminals and reattach the positive and negative cables starting with the positive car battery cable. After that, test the car to ensure that the installation is working. 
Bottom Line
If you buy a car battery near me, you need to do some research and you have to consider the quality of the product. It is better if you will read reviews before purchasing custom battery cables. In this way, you will find how much a car battery cost. And it is really important that you perform regular battery cable USA maintenance because if your car battery cable is not in a good condition you can't start your vehicle.
Where to buy cheap car battery? ZW CABLE is the leading battery cable manufacturer and supplier. We will offer you customized service at a reasonable battery cable price.