According to TUV Standard
Related  Current 30 A
Approved by TUV, SGS, BV
Related Voltage 1000V DC
What is MC4 Cable?
MC4 cable is a special connector for solar panels to form an array module, with a reliable connection, waterproof and anti-friction, easy to use, etc. The MC4 has potent anti-ageing and UV resistance. Solar cable is connected by compression and tightening, and the male and female connectors are fixed with a stable self-locking mechanism and open and close quickly.  MC is the model number of the connector, 4 refers to the diameter of the metal.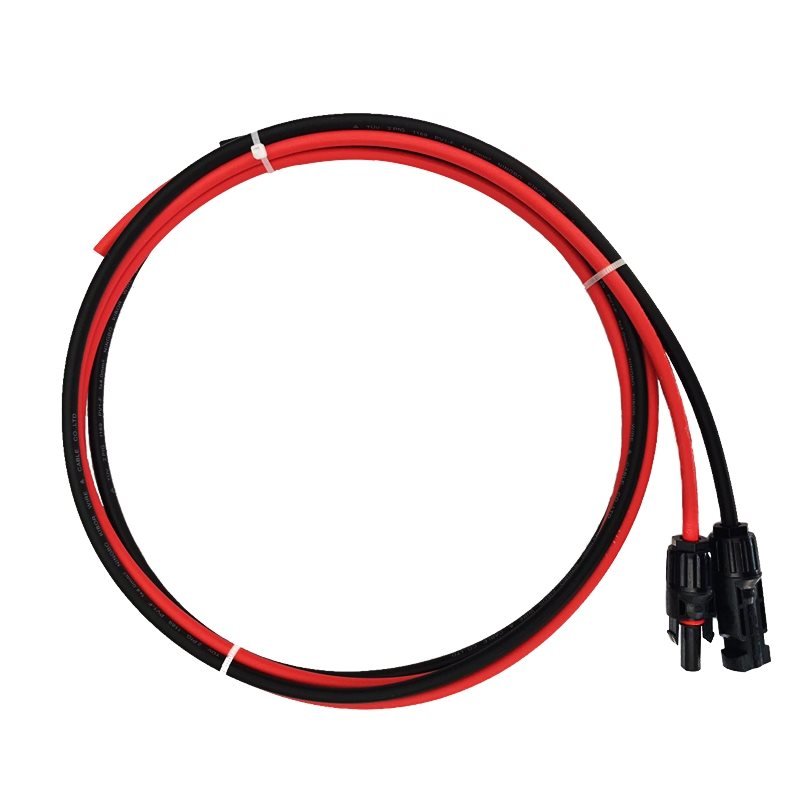 What is MC4 Connector?
Solar cable connectors have become synonymous with photovoltaic connectors. MC4 can be used on essential components of solar power generation such as modules, converters, and inverters, which bear the burden of successful power plant connections
Because PV systems are exposed to rain, wind, sun, and extreme temperature changes for long periods, connectors must adapt to these harsh environments. They must be waterproof, high temperature resistant and weatherproof to UV rays, touch-protected, high current carrying capacity, and efficient. At the same time, the low contact resistance is also significant. That's why mc4 has a minimum life cycle of 20 years.
how to make mc4 cables
MC4 Solar connectors are commonly used as MC4. Male and female connectors consist of a male and female, male connector, and female connector. The male corresponds to the female, and the female corresponds to the male.Make PV cable connectors need 5 steps. For tools we needed: wire stripper, crimper's, open-end wrench.
①Check the male core, female core, male head, and female head for damage.
② According to the length of the male core (or female ) crimp end stripping the photovoltaic cable's insulation length with wire strippers (about 1cm), 4 square photovoltaic cables with strippers MM = 2.6 to strip, so as not to hurt the core.
③ PV Cable core into the male (female ) crimp end, crimping pliers, with the appropriate strength to try to pull, (pay attention not to press the male core (female ) of the card head.
④ Put the female (male) fastening end into the cable first, and then snap the male core (female core) into the female (male), and pull it out with appropriate strength after hearing the sound when it is stuck in.
⑤ use a wrench to tighten again correctly (not too hard, resulting in damage) cable stripped insulation length is moderate so that the core is inserted right into the bottom of the terminal, not too long or too short.
MC4 Solar Manufacturers 
As a solar cable manufacturer since 1993, we have can manufacture mc4 cable sizes. ZW Cable also produces according to your requirements. Send us an inquiry, we will offer your best rate and service.