According to IEC 60502-1 Series Standard
PVC & TPU
Approved by SGS, BV, IEC, UL
Related Voltage 600V
4 gauge battery cable can be used as a power cable for cars, trailers, solar cells, boats and trailer motors. It can also be used to connect multiple small batteries (lawn and tractor batteries) together in parallel, which can create higher voltage battery packs.
Size: 4 AWG
OD(mm):8.8
Area(mm2): 21mm2
Conductor Resistance(Ω/KM):0.81
Conductor: Copper Wire Class 5
Stranding: more than 600 strands of copper wire
Jacket Color: Any Color Mostly is red and black
Length: 100ft, 100 meters
Package: Roll 
4 gauge battery cable diameter
The conductor diameter for 4 AWG battery cable is 6.2mm. And the overall diameter is 9.2mm.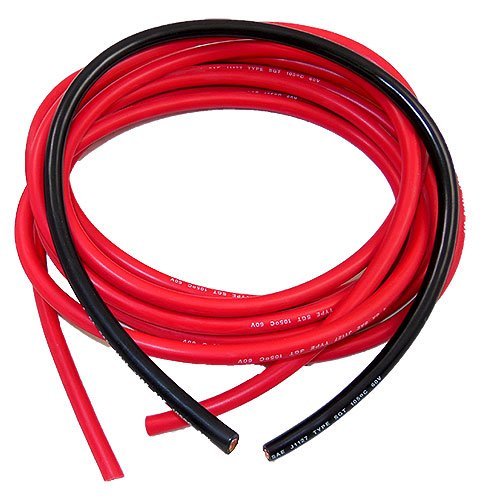 4 gauge battery cable amp rating
The max amp for 4 gauge cable is 60 Amps. We also have 2 gauge battery cable in stock. we can sell 4 gauge battery cable by the foot.
2 gauge vs. 4 gauge battery cable which is bigger?
2 gauge battery cable is large. The outer diameter for 2 gauge diameter is 9.5mm. 2 AWG battery converted to mm2 is 33.6.  4 gauge battery cable is 21.6mm2. 2 gauge battery cable use more copper wire than 4 gauge battery wire.
Advantage of 4 gauge wire
As a professional battery cable manufacturer. Our battery cables are very flexible that they can be used even at –40℃. The thickness of our cables is thicker than other manufacturers. Therefore, our 4 gauge automotive wire can be rubbed. That's why many customers like our products.
4 AWG battery cable is full gauge. Hence you don't need to worry about the current and watt, even if your current is a little higher, our 4 gauge power wire can still be used. We can produce more cable related to 4 gauge battery wire such as 4 gauge marine wire and 4 gauge amp wire. The conductor of 4 awg marine cable is tinned copper. 
Weclome to visit ZW Cable selecet your 4 gauge battery cable. We can offer your best price with good quality.