According to IEC 
PVC Insulation& PVC Sheath
Approved by GB, IEC, CE
450/750V
A flat cable is a flat wire formed by combining many wires together. This cable is low cost, lightweight, tough, and can be easily used in large equipment as well as in small equipment. The flat electrical cable is resistant to heat and radiation, cold, acid and alkali, etc. The ambient temperature is -40~70℃.
 
Conductor
Insulation
Dimension
Conductor Resistance at 20℃(Max)
Current rating at 40℃
Nominal area
Nos.&Dia. of wires
Nominal thickness
Nominal core Dia.
4 core
 
 
 
 
 
 
T*W
 
 
sqmm
Nos./mm
mm
mm
mm
Ω/km
Amps
1.5
22/0.30
0.8
3.25
6×15.8
12.1
14
2.5
36/0.30
0.9
3.84
6.5×18
7.41
18
4
56/0.30
1
4.5
7.6×21
4.95
26
6
84/0.30
1
5.3
7.9×24.3
3.3
31
10
140/0.30
1
6.5
9.9×29.7
1.91
42
16
224/0.30
1
8
11.8×36
1.21
57
25
350/0.30
1.2
10.1
14.7×45.1
0.78
72
35
490/0.30
1.2
11.3
16.2×50.1
0.554
90
50
703/0.30
1.4
13.6
18.3×58.1
0.386
115
Conductor: Stranded Copper Wire Class 5
Insulation: PVC
Sheath: PVC
Sheath Color: Black or Blue
5 Best Factors To Consider While Choosing Flat Cable
 The demand for multi-conductor cables continues to rise due to their high performance and benefits. That being the case, it is necessary for most professionals and engineers to develop several types of multi-conductor cables.
Cables are the basic elements used to join various appliances. Flat cables are among the most in-demand cables in the market. A significant reason why these cables were designed is due to the skyrocketing demand in the aerospace industry. In this article, we'll answer some of your frequently asked questions concerning the flat wire.
1. What is Flat Cable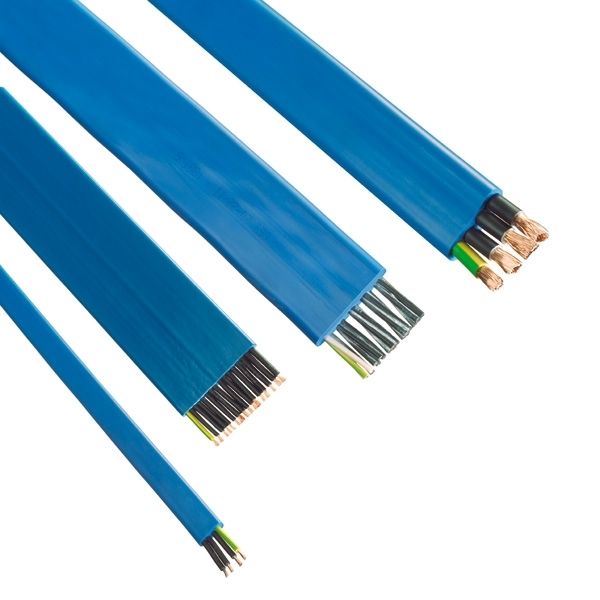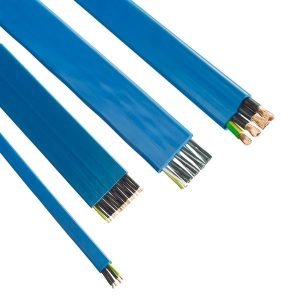 Figure 1: Custom Flat Cables   
Most manufacturers have flooded the market with circular cables because they are suitable for most applications. However, there are also "flat" cables that have been subjected to innovation in the market, widening their fields of application.
Flat flex cables are any variety of electrical cables that are flat and flexible with flat solid and parallel conductive wires. Flat conductor cable systems enable lines for power current and data signals to be laid simultaneously inside buildings and plants. These cables have a flat and flexible plastic surface that is embedded with multiple flat conductors.
Mostly, these cables have stiffeners at their ends to make the insertion process easier. So, you'll find their ends slightly thicker than other parts.
These cables have a smooth and compact design, making them more flexible, unlike their round counterparts. Also, they have no shielding material and multiple layers that dominate the round cables. Thus, they are frequently used in high-flex applications like robots, automated processing equipment and festoon.
2. What is Flat Cable Wire Used For?
The demand for flat wires has rapidly increased recently in many applications where round cables were dominant. This is due to the performance and technical advantages of flat wires exceed those of round cables.
3. Are Flat Cables Better than Round?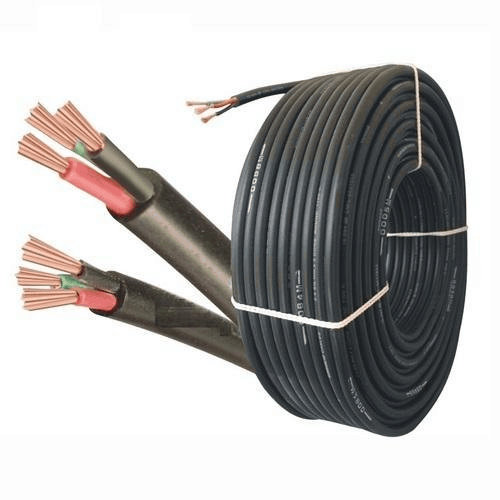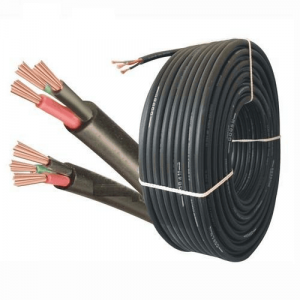 Figure 2:Round  Cable
Flat cables are applied massively in various industries. Here's a summary of why you should use flat wires instead of round.
Flat cables are flexible: Flexibility is a crucial component for any application that involves motion like robotics, automatic diagnostic equipment and axis-control manufacturing machines.
Flat flex cables are made of a thermoplastic material that is highly flexible, giving them a high flex life.
Conductive wires in flat wires flex in the same cycle, the same plane of movement and simultaneously, unlike round cables, which suffer continuous stress and excessive twisting on the inner conductors.
They save space: round cables are made of multiple layers of shielding material, fillers, and jacketing within their cables, occupying a lot of space. Conversely, flat cables eliminate the unnecessary material giving room to compact packaging of tubing and electrical conductors. Some of the conductive wires included in flat cable product include power, data, and signal cables.
Organization and handling: Flat wires reduce the number of separate conductive wires that must be managed. With these cables, disparate conductor types like coax, single conductors, shielded and non-shielded (signal and power cables), and twisted-pair flat cables can be merged to form a flat power cable.The number of conductor range from 0.15mm to 0.3mm. 
One flat flex cable containing multiple conductors simplifies your assembly, design, and maintenance.
Superior electrical performance: Specifically, flat cables are available customized to offer optimum functionality in flexing applications.
In these cables, all the conductive wires are like swimmers in their lanes because the spaces separating them are equal, with a similar distance of travel.
Contrarily, the conductive wires in round flat wires are twisted and turn inside the cable, and therefore, the length and spacing of travel vary, and it changes constantly.
Therefore, flat wires record a significantly efficient and better electrical performance as compared to round conductor flat cables because they have faster signal speeds, higher current carrying capacity and less skew.
Simple and stronger: Flat cables have parallel conductors, and mostly, they have clear jackets, making it easier and simpler to identify the conductors for easier termination at the ends. This makes flat wires easy to repair.
Lastly, the flat cables are vital because the parallel structure maintains the equal distribution of stress and loads, unlike the unequal load share in round cables. So, if you need a design that is compact and highly reliable, consider using flat cables.
Reliability: The flat wires are extremely simple, thanks to their parallel conductor geometry. The geometry eliminates the potential sources of malfunction and wiring error.
Ease of handling-Flat cables are easy to bend and fold, conforming to the area they're being installed uniformly. It is also easy to fasten flat cables with clamps.
High-density interconnections- ffc cable has a high cabling density than that of using conventional cables. The cables' high cross-sectional density contributes to the cabling density. The layers of a flat cable are also designed to offer higher conductor density as compared to that of round cable.
4. Where to Buy Flat Cable?
There are several flexible flat cable suppliers in the market.
At ZW CABLE- Your Best Flexible fFat Cable Suppliers. We cater for all aspects of wiring requirements like the 6mm twin and earth cable, 8 conductor flat cable, twin and earth cable, 6 conductor flat cable, twisted pair cable, flat instrument cable, and many more.
We work in consultation with engineers to provide cables that suit your needs as an electrical engineer.
Therefore, you can get reliable and cost-effective flat cables that meet the market's demand from our stores. Don't hesitate to contact us for anything regarding Flat Power Cable.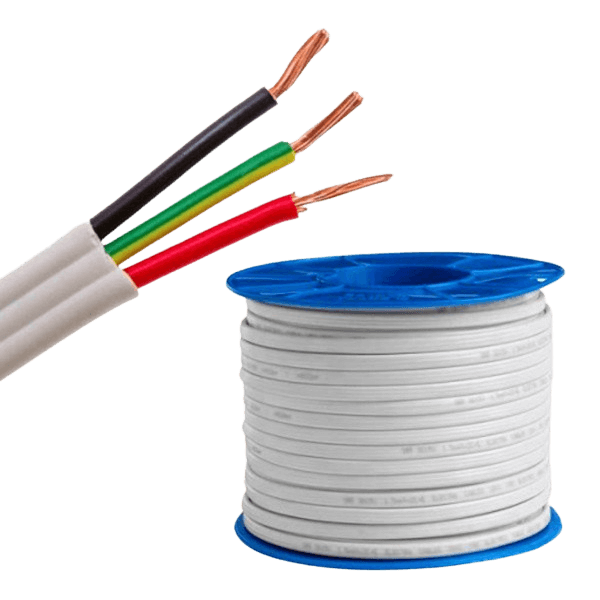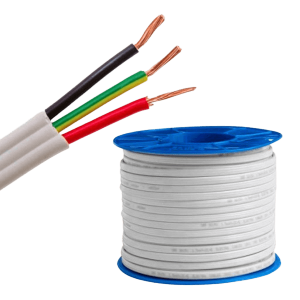 Figure 3:Twin and Earth Cable
Figure 4:Flat Submersible Pump Cable
5. How To Strip Flat Cable?
Most of us are experts by ourselves, a reason why we don't need pros to do basic operations.
Stripping a cable is among these activities. Read on to learn how to strip a flat cable.
Mark the cable where you want to strip the material. Use any pen or marker.
Take a razor and score around the cable. Ensure you make light scores to avoid cutting the conductive wires.
Use a pair of pliers or any other tool and pull the casing. Be careful and gentle when pulling the material.
The flat cable is yet to be known by most professionals, but it is just more than a normal conductor. Despite several options in the market, flat wires have features that answer all your design challenges.