According to IEC, BS, GB
Flame Retardant & PVC
Approved by CCC,CE, ISO
Large stock cables with different cores
16mm armoured cable is an electrical cable used mostly in residential and commercial buildings to deliver low-voltage electricity.
The cable's outside covering is made from a strong material to protect the wiring.
The 16 mm armored cable is available in three or four-core and black colors, used in industrial machineries such as air conditioning units, motors, and generators.
16mm armoured cable 3 core  Construction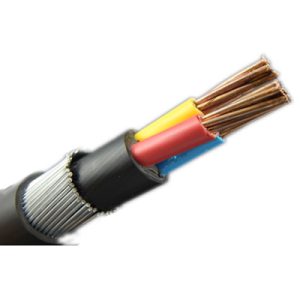 16mm armoured cable amp rating is 66A.

Conductors: Class 2 Copper Conductor
Insulation Thickness is 0.7mm
Bedding: PVC
Armour/Protection: SWA (Steel wire armour or steel tape amour)
Sheath/Jacket: PVC
Sheath Thickness is 1.6mm
The colour usually is black (Accept Custom Colors)

The maximum operating temperature is 90°C, and the minimum bending temperature is 0°C.

Overall Diameter is 21mm
16mm armoured cable price per meter
16 sq mm armoured cable prices per meter are determined by the LME Copper Price. The cost of our products changes according to factors such as type, size and quantity. Here is the price list:
16mm 2 core armoured cable USD 3.2 per meter
16 sq mm armoured cable3 core USD 4.5 per meter
16 sq mm armoured cable 4 core USD 5.5 per meter
16 sq mm armoured cable 5 core USD 6.8 per meter
ZW CABLE offer high quality 16mm armoured cable at competitive prices. Our products are made using high 99.5% copper and high quality PVC, which have been sourced from reputed companies. We can also help you design and choose right size cable. Accept LOWER MOQ and Be Your Best Cable Supplier.