According to VED Standard
Rubber Cable
Approved by IEC, CCC, VDE
Large stock h07rn-f cables with different sizes
 H07RN-F cable, which means this model is the wire of European countries, usually we named VDE standard for cables, rubber cable, rubber wire, and outdoor rubber wire. H07rn-F cable has high flexibility, weather resistance, oil resistance, and friction resistance. It can be used in construction sites, stage and audio-visual equipment, port areas and dams. It is also suitable for temporary buildings and houses, drainage and sewage treatment, cold environments and harsh industrial environments.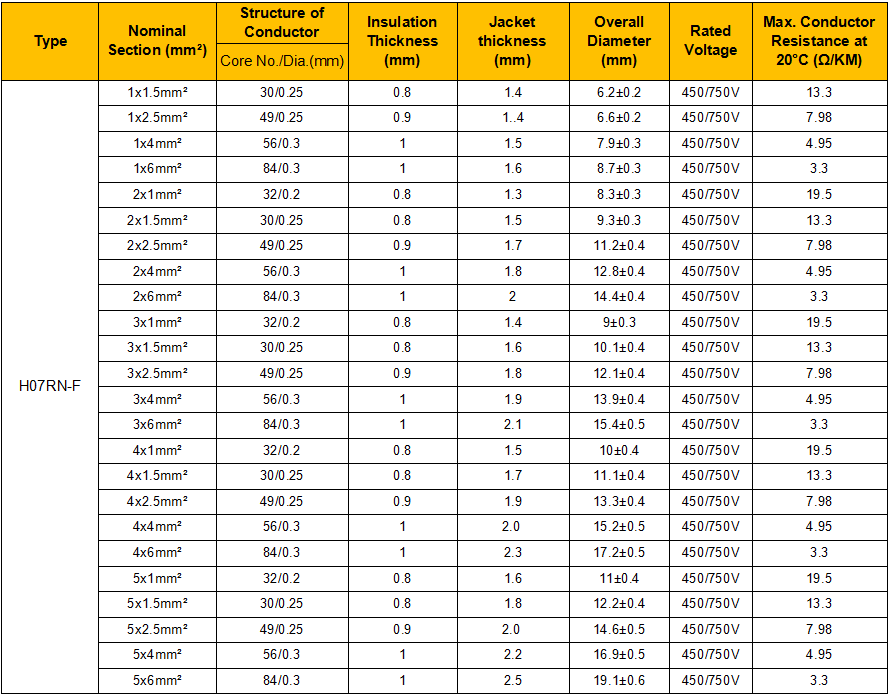 Conductor: Stranded Copper
Insulation:Rubber
Sheath: Neoprene
Voltage: 450/750V
what is h07rn-f cable?
H07RN-F cable is a heavy-duty rubber flexible cable rated at 450/750 V. H07RN-F rubber cable is manufactured with a conductive copper core, ethylene-propylene rubber (EPR) insulation and a polychloroprene (PCP) outer sheath. As a result, it is highly flexible, waterproof, oil-resistant, friction resistant, high tensile strength, and UV resistant. H07RN-F cable is suitable for applications such as handling equipment, mobile power, construction sites, port areas, and dams. Finally, H07rn-f neoprene cable conductors are considered heavy duty and flame retardant, making them suitable for use in harsh industrial environments. The most important cables have a long service time.
What is the meaning of H07RN-F?
The definition of H07RN-F is a harmonized code according to the Grade of the European Committee for Electrotechnical Standardisation (CENELEC) to provide a standardized specification for electrical leads:
N — Relates to the PCP outer sheath
R — Refers to the EPR insulation
F — flexible copper conductors inside 07 — identifies the voltage rating as 450/750V
H — means conformity to harmonized standards
h07rn-f cable specification
H07RN-F rubber cable can be single-core or multi-core.
Typically, single-core wires are used for higher current ratings because one core is used for each of the three phases plus neutral and earth. Multi-core wires are available in 2-core, 3-core, 4-core or 5-core. However, some manufacturers offer rubberized flexible cable variants of up to 19 cores. H07RN-F wire is suitable for mobile equipment, appliances and building installations.
Neoprene Sheath
These copper wires use a rough rubber sheath made of neoprene (chloroprene), often called PCP. This material provides enhanced abrasion resistance and is resistant to many oils and compounds. As a result, neoprene-sheathed H07RN-F cables can still be used in harsh environments. And the performance of the cable is also particularly stable.
H07rn-F Cable cores colours
2 cores: Blue, Brown,
3 Cores: Blue, Brown, Yellow-Green
4 Cores: Black, Brown, Grey, Yellow-Green
5 Cores: Black, Brown, Grey, Blue, Yellow-Green
h07rn f cable prices
H07rn-F cables have many different sizes such as h07rn f 3 core cable, h07rn f 5g2 5, h07rn f 5g6 etc. The price for each size is different. You can contact ZW Cable to get your best price.
The H07RN-F cable is highly flexible and can be used in harsh weather, so this is why many customers purchase it. As a manufacturer, we make sure that our cables are qualified products. We can also provide samples for testing. Contact us and let's win more market together.