According to VDE  Standard
PVC
Approved by VDE, IEC
Large stock NYY power cable with different sizes
NYY Cable: Understanding which one to use in your projects
The NYY cable family of products is a rather broad and versatile array of cables, that can be used in an assorted range of electrical and power applications. However, choosing which of the NYY cable specification is the most appropriate for the project requires an understanding of what each specification code stands for. For example, having a deep understanding of an NYY cable meaning versus an NYM cable meaning can help electricians and engineers decide whether a single NYY cable is needed, or one with multiple core cables will do the job.
In this post, we'll review some of the basics of the NYY J cable family, and offer some suggestions on how you can get value for money when purchasing your cables.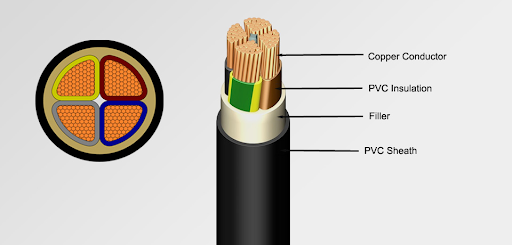 1.What is NYY cable?
Like it's other family members in NYY cable family, NYY O cable is extensively used in power transmission and distribution application. Each of the letters in "NYY" designates the real NYY cable meaning, which is:
N, stands for Copper core
Y, designates a PVC insulation (inner)
Y, identifies a cable with an outer PVC installation
Using these abbreviations, it's easy to understand the NYY cable meaning to be a cable with one or more PVC-insulated copper core, with an insulated outer PVC sheath. Both Y's is the abbreviation for the NYY cable specification specify PVC – one for the inner core sheathing, and the other for the exterior sheathing. The "N" designates a cable with copper core.  Additionally, when reviewing an NYY cable specification sheet, you might come across a cable with a label such as NYY 185. This numeric data identifies the gauge of the cable – 185mm.
Remaining within the NYY family of cables, there are other cables that also denote their unique specification among that hierarchy of cables. For instance, you may come across an NYA cable.  In this instance, the designation of the first two letters is the same – it identifies a PVC insulated copper core cable. However, the "A" in the NYA cable specification identifies that this is a copper core cable with a single copper core, and has only a single PVC insulated layer.
2.What does NYY cable stand for?
Before deciding on which type of copper core, PVC cable to use, it helps to understand the various classifications of the NYY. In the electric cabling lettering system, NYY cable specification refers to the following:
N = Means the cables have a copper core
Y = Means the cable has an inner PVC insulation; and
Y = Refers to outer PVC insulation
The NYY cable, are typically unarmored cables. Like many in the NYY-family of products, are used for power supply in underground, indoor, concrete, water-based and other static applications.  where there's minimal risk of mechanical damage to the cable.
3.What is NYY-j cable used for?
When understanding what the NYY j cable is used for, it helps to put this type of cable in perspective with another cable in the NYY J cable family – the NYY O cable. First, let's look at the common lettering in these cables, which is "NYY". In this format:
N = The "N" indicates that the cable is manufactured with a copper core
Y = The first "Y" highlights the inner insulation type. In this case, it indicates the cable has an inner PVC insulation; and
Y = The second "Y" tells electricians and engineers more about the outer insulation that this NYY cable has. In this instance, it refers to a cable with an outer PVC insulation
That leaves us with the two other letters "j" and "o" in NYY J cable and NYY O cable specifications. The main difference between these two products is that the NYY J cable comes with a green/yellow earthing or ground wire. It's counterpart, the NYY O cable does not come with the grounding core.
Given that difference, it's safe for electrical and engineering projects to see NYY J cable used in various applications, including underground uses, in submersed areas, and open-air construction. Like it's NYY O cable counterpart, the NYY J cable is also frequently used in concrete and brickwork projects. However, these cables are not used in compressed, vibration-oriented concrete applications, or in projects where the concrete is shaken excessively.     
4.NYY vs NYM cable?
Both, the NYY cable as well as the NYM cable are part of the NYC cable family. The NYM cable family includes products with a copper core and single or more than one core cable that's shielded by an outer PVC sheathe. These cables are typically used for applications in the 0.6kv to 1kv range.
The NYM cable, on the other hand, indicates a similar copper core cable with PVC insulation. However, the "M" in the NYM cable meaning signifies more than a single cable core inside the external PVC sheathe. So, an NYM 1.5 cable may have several 1.5-gauge NYY cables holstered inside an external PVC casing. These cables are typically used in applications of between 300v versus 500v.
Within the NYY and NYM cable families, there are additional types of cables, for instance, cables with a "j" or an "o" class. As an example, the NYY-j cable and NYMJ cable uses a green/yellow earthing or ground wire. Compared to that, NYM-o and NYY-o cable doesn't use that additional earthing wire.
5.Getting the best NYY cable value for money
Sometimes, it's tempting to look at an NYY cable price list and think there's value in making a purchase. However, a simple price check is no way for electricians and engineers to ensure they're receiving value for their NYY cable purchases. True value for money comes from more than what a sticker price offers.
Before you decide on which product to buy, regardless of the NYY cable specification you require, it's important to assess who the manufacturer or supplier is. Here, at ZW Cable, we've been manufacturing a broad range of cables for many years now, a broad spectrum of NYY, NYA and NYY 4 core cables.  The diversity of our product offerings means our clients have a single source for all their NYY cable needs.
But there's more to us than simple product diversity. We enforce some of the highest quality assurance processes in the industry. Whether it's NYY-o cable that you require or any other NYY cable specification you're looking for – you're assured that the product you buy from us is of the highest standards.
Finally, we won't be beat on price! Whether it's MYMJ cable price you are checking, or matching our NYY cable price against competitor price lists. Remember – our product diversification, our reputation and our product quality guarantee come with any NYY cable you buy from us.   And that's true value for money!