When your power project requires high-performance abilities, then you should consider XLPE cable as the cabling choice. Choosing XLPE electrical cable ensures your project delivers superior thermal, electrical and physical qualities. Once installed, XLPE underground cable is far more moisture-resistant than other comparable power cables. XLPE wire is also better stress-proof than its other peers. For instance, an XLPE unarmoured cable offers greater crush resistance and higher protection against heat deformation.
In summary, XLPE cable means an electrical cable with qualities that outshine many other cables of similar specification. This makes them the ideal choice for power projects where cables are either installed outdoors, underground or in extreme weather or operational conditions.
Below, we explore several aspects about XLPE electrical cable, including a comparison of XLPE vs PVC cable. Our objective is to understand what XLPE is, and why it has unlimited potential for some of the more challenging power transmission and distribution applications.
1. What does XLPE cable mean?
XLPE insulated cable is one of the most sought-after cable forms for high-performance electrical projects. Because they don't easily melt when high voltages are transmitted; they don't corrode easily when exposed to corrosive acids, gasses and salts; and because they are high-performance, long-lasting insulation choices, XLPE underground cable is also a great choice for outdoor power transmission.
So, what exactly is XLPE cable, and what does XLPE mean?
Electrical cables sometimes have multiple names which identify the same cable. PVC XLPE cable is one such example. Depending on the manufacturer, XLPE wire may also be identified as PEX or XPE cable. All three abbreviations mean the same thing: XLPE cable.
To understand what XLPE cable means, we must first understand what the various parts of the abbreviation "XLPE" means. In this case, "PE" refers to the Polyethylene – the basic material that an XLPE cable manufacturer uses to produce the cable. And "XL" refers to Cross-Linked, a technique used by the XLPE cable manufacturer when producing the XLPE wire.
So, when we put these abbreviations together, we understand that XLPE cable means a cable that's produced from a process of vulcanization or cross-linking Polyethylene strands my changing their molecular structure.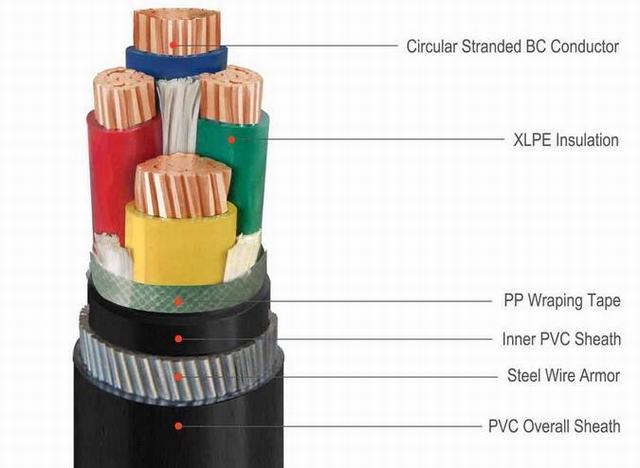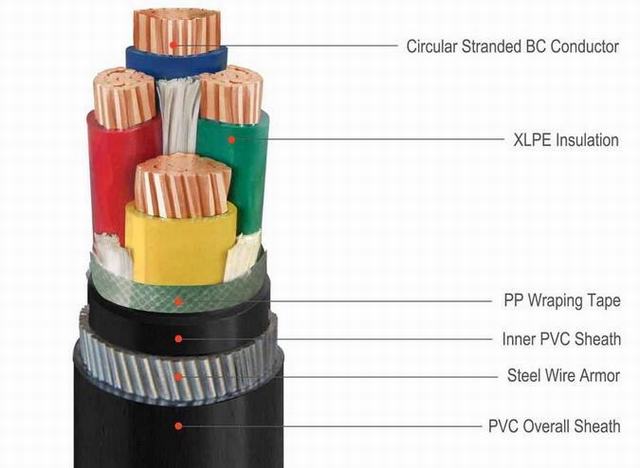 2. What does XLPE cable stand for?
XLPE cable stands for Cross-linked Polyethylene cable. This is a process which bonds the molecules in long strands of material together to produce a ladder-type product called XLPE wire insulation or tubing. Upon completion of the process, there's no slippage between the molecules. This means that even XLPE unarmoured cable won't soften when exposed to high heat. The cross-linking or vulcanization process makes unarmoured and XLPE armoured cable heat resistant.
Cross-linking XLPE cable means that the molecular structures of the cable change. With cross-linking, the rearranged molecules form the structure of a lattice, which prevents (or resists) movement of those molecules when high amounts of heat flow through the PVC XLPE cable.
The XLPE cable manufacturer may do this either by a physical or a chemical process. In the former, the desired XLPE cable specification is produced by exposing the cable to high energy, such as microwave radiation or bursts of electrons of high-energy. The XLPE cable manufacturer uses a chemical process for producing XLPE electrical cable by adding peroxide, saline or other chemicals to form the cross-linking.
3. What is XLPE cable used for?
XLPE products are ideal for power distribution and transmission applications. Using an XLPE underground cable is safe for external electrical usage because it is more resistant to corrosion than other alternate cable choices. You should also consider using an SWA XLPE cable (Steen Wire Armoured) for applications where you don't want to replace or inspect the cable too frequently – like underground or concrete-filled power line trenches.
Any XLPE cable manufacturer that follows internationally recognized standards, uses processes that infuse their XLPE power cable with special qualities that make it ideal for specific applications. For instance, compared to a PVC cable, an XLPE insulated cable might be used in applications requiring greater resistance to ageing and stress cracking.
In high-voltage applications, where a 4-core cable is called for, it is ideal to use a 4 core XLPE cable because XLPE supports a broad range of voltage, from low voltage to ultra-high currents. In this regard, using an equivalent insulated XLPE insulated wire specification makes better sense than other insulated cable choices, including Ethylene Propylene Rubber (EPR), PVC or silicone rubbers.
In environments where there is high-risk of fire, chemical stress on cables, or exposure to oil or corrosive liquids, an XLPE insulated cable is the best choice to use. When looking for a low smoke zero halogen cable, engineers prefer using an XLPE armoured cable compared to other available choices.
4. XLPE cable full form
The full form of XLPE is a combination of two terms – "Cross-Linked" and "Polyethylene". The full form XLPE wire is therefore known by combining the two terms: A form of plastic (Polyethylene) used in manufacturing XLPE power cable, and the manufacturing process (Cross-Linked) that the XLPE cable manufacturer uses to produce the cable.
The form that XLPE cable takes is the result of the material used in its insulation. XLPE insulated cable is produced using a form of polyethylene – which is a type of material in the plastic family. This form of cable is produced by cross-linking polyethylene to provide XLPE wire with better heat resistance, higher corrosion resistance, and greater stress resistance qualities.
Full form XLPE electrical cable is widely found in projects involving power transmission in the 600V to 154 kV ranges. You'll also find a full form XLPE underground cable used as the insulation layer during the installation of underground power lines.
5. PVC cable vs XLPE cable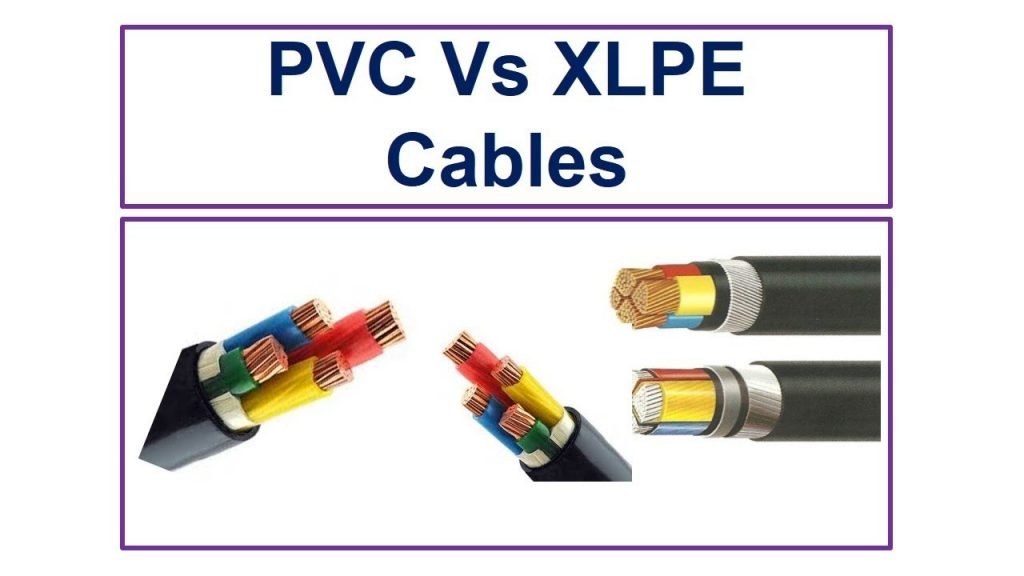 XLPE cable is produced through a process of vulcanisation or cross-linking of molecules, that results in changes to the structure of the materials which produce XLPE wire.  This molecular structural change gives XLPE electrical cable superior electrically conductive qualities. When you compare XLPE vs PVC cable, several immediate factors stand out:
Longevity: Compared to a PVC cable, an XLPE power cable has a much longer service life. That's primarily because of the strengthening qualities that the Cross-linked Polyethylene process creates.
Power rating: Secondly, and more importantly, an XLPE table inherits qualities, during the production process, that makes it eligible for higher-rated current applications.
Heat resistance: When we compare XLPE vs PVC cable for heat resistance, an XLPE power cable can typically stand up to 260o Compared to that, a PVC cable can withstand maximum temperatures of 160oC. So, when it comes to high-power transmission projects, this would make an XLPE insulated cable a more suitable product compared to an equivalent PVC cable.
Also, XLPE cable means a cable that has better tensile strength, impact resistance and elongation qualities than PVC cables.
Compared head-to-head, and depending on an equivalent PVC and XLPE insulated power cable specification, if there is a short-circuit situation in the application, the XLPE wire is better able to handle the condition than the PVC cable.  Also, when reviewing XLPE vs PVC cable, the high corrosion resistance quality of XLPE cable, in comparison to PVC wire, is yet another differentiator between the two.
Finally, using an XLPE cable means that the application is more moisture-resistant than if a PVC cable is used. In fact, XLPE electrical cable has more than 100-times more moisture resistance capacity than a PVC cable of equivalent specifications.