The use of an underground cable to transmit electrical power goes back decades. Nonetheless, the usage of this cable is relatively negligible worldwide. Generally speaking, you can transmit electricity through overhead wires or underground ones. Most of us are accustomed to the overhead transmission option. Fortunately, recent studies have revealed that a considerable proportion of society is starting to embrace the incredible value of an underground electrical cable.
Since the use of an underground power cable is projected to increase, it would be best to comprehend its nature and usage. So, where exactly can you start your learning process? Frankly, it takes years to learn about this type of cable to the point where you can confidently call yourself an expert. But auspiciously, you don't necessarily need to be an expert. All you need to do is grasp some basic information about underground cables.
Most of us have fallen victim to dubious cable manufacturers and retailers keen to exploit our ignorance. This post seeks to shield you from unfortunate situations by providing basic information concerning this incredible electrical wire. Essentially it offers expert answers to five critical questions concerning underground wire.
SPOILER ALERT:  a free guide on the optimal cost of an underground cable at the end of this post
1. What is an underground cable?
Have you ever come across a circumstance where it is practically impossible to use an overhead cable? An underground cable comes in handy in such cases. You have to employ this type of electrical cable in situations where it becomes impractical to install overhead wires. What are some of the circumstances that warrant underground cable installation? Power installations in congested areas or areas where local regulations prohibit overhead cables are vital examples of situations where you would have to use this incredible cable type.
That being said, you have to note that underground power cables are not one-size-fits-all. The ideal type varies depending on your voltage and service requirements. In most instances, this type of cable is suitable for long-range installations that require low voltage.
More importantly, you need to understand that underground cable types vary depending on their constitution? What exactly do I mean by cable constitution? This cable type comprises one, two, three, or four tinned-stranded copper conductors like typical PVC cables. Some manufacturers opt for aluminium conductors because they are cheaper than copper. Nonetheless, it is always advisable to go for cables made of copper conductors.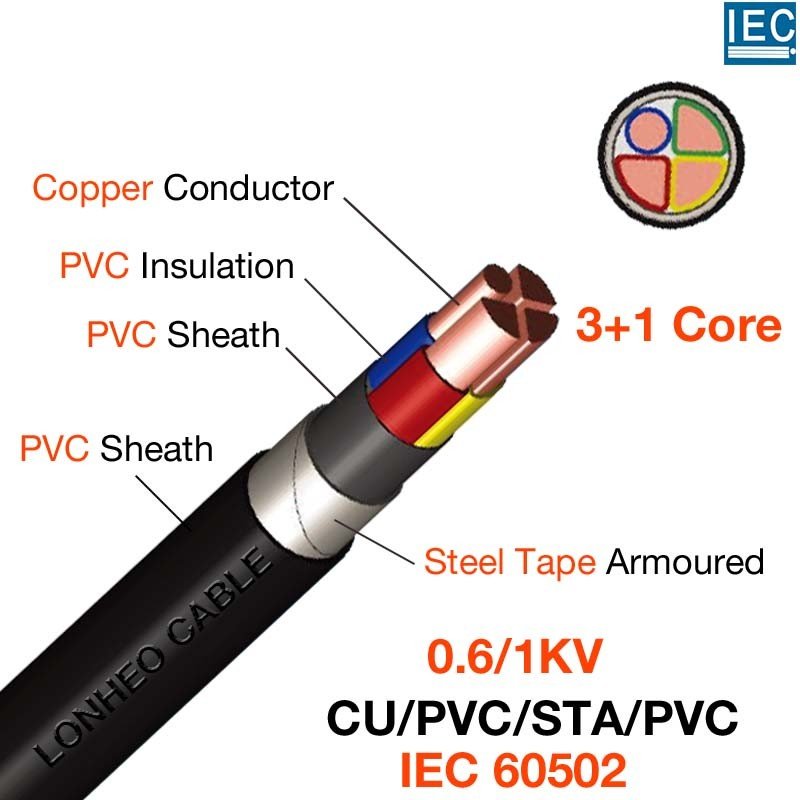 Your intended installation location also plays a critical role when selecting a suitable underground cable. It would be best if you considered various mechanical and voltage aspects depending on the installation location. As per their voltage capacities, underground-type cables are generally classified as low voltage cables for operating voltage up to 1 kilovolt and medium voltage cables for operating voltage up to 36 kilovolts. Other vital factors that you ought to consider when choosing an ideal underground power cable include;
The over underground cable system voltage requirements
The cable's current carrying capacity
The overall permissible voltage drop
Short circuit ratings.
2. What are the types of underground cables?
As I mentioned earlier, there are two primary types of underground cables: high voltage and low voltage cables. Logically, each kind is suitable for particular applications. Logically, low voltage cables are ideal for applications that require minimal amperage. The most common low-voltage underground wires include;
A. STA Cable
STA is an acronym that stands for Steel Tape Armoured cable. In essence, this cable is a low-voltage underground armoured cable that is usually suitable for applications below 35KV. The cable's uniqueness rests in the metal armour layer in its cable sheath. Generally speaking, the metal layer shields the wire from damage through external squeezing. As a result, the STA cable is suitable for a wide range of industrial applications concerning power distribution and signal control.
B. SWA Cable
The SWA cable is a typical underground armoured cable suitable for auxiliary and mains supply applications. SWA is an abbreviation that stands for Steel Wire Armoured. It is specifically unique because of its steel wire armouring, enabling it to withstand various adverse conditions. Essentially speaking, this type of cable is heavily resistant to pinching or mechanical damage. Still, it is essential to note that it is tremendously heavy and cannot bend easily.
Generally, this type of electrical underground cable comes in handy when dealing with earthing or grounding applications. Its typical construction can be broken down into five key components: the conductor, insulation, bedding, armouring, and sheath. It is also essential to keep in mind that this type of cable is manufactured only in multi-core form. What exactly do I mean by multi-core? Typically, a multi-core cable is any cable that consists of two or more conductors. Here is a list of various SWA underground armoured cable specifications and their intended use;
2-core- It consists of live and neutral conductors and is suitable for Class II appliances
3-core- It  comprises live, neutral, and earth conductors and is ideal for class I applications
4-core- Consists of four colour-coded copper conductors  and is perfect for signal applications
3+1 core- This type of cable is often viewed and used as a 3-phase underground cable with one zero-line for electricity supply
The most popular underground cable size is 6mm armoured cable and 10mm armoured cable
3. How to find underground cables?
As I mentioned earlier, an underground cable is a safer alternative to an overhead cable. However, its downside is that you can easily forget the specific installation location. As such, they tend to present huge risks down the line, especially if you intend to do some landscaping work. Attempting to perform such tasks without pinpointing the exact location of the underground power cable may lead to deadly electrocution. So how exactly do you find an underground electrical wire?
Generally, finding underground copper wires is a do-it-yourself task. All you need is a few cable-finding apparatus. That being said, choosing a suitable underground cable type will save you the headache of trying to locate the buried cable frequently. Why do I think so?
Well, the primary reasons people have to locate buried cables are maintenance and replacement. However, as I indicated earlier, an underground cable can withstand various external adversities, including heat and any other harsh conditions that may lead to its damage. In addition, an ideal cable choice can withstand the current that passes through it and any mechanical risks.
Essentially speaking, a quality underground power cable can last for several years without damage. This is why it is constantly advisable to consider the quality of the wire rather than the cable price. Unfortunately, most of us naively go for cheaper cables at the expense of quality. Instead of settling for the most inexpensive wire, it would be best to seek guidance from your local electrician on the best affordable underground cable type that suits your needs.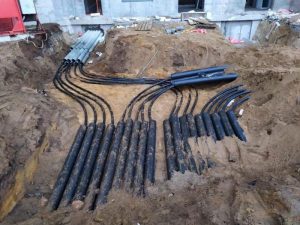 4. How to bury an underground cable?
Usually, most people seek the services of a trained individual when installing an underground cable. Nonetheless, some of us may feel adequately confident of our wiring expertise. Are you one of those people who think they can perform an underground cable installation by themselves? If the answer is yes, I can confidently tell you it's a straightforward process. You just have to lay out an ideal cable path. Underground installation of a cable is easy, but first, you need to choose a suitable wire. How do you choose the most appropriate wire?
First, you need to ascertain whether you need a low or high-voltage cable. What is the variance between these types of cables? Well, a low voltage cable is suitable for applications that require up to 1000 volts. So, if you intend to carry out applications that involve extreme voltage, an 11 kV underground cable may come in handy.
Secondly, you need to choose the right size of cable. Like archetypal PVC cables, size determines the amperage that a wire can withstand. So, you need to select a cable size based on the amount of current you intend to run through the underground cable system. It is often challenging to make such choices, especially if you are not an expert in electrical cables. Therefore, it is best to consult a professional before making an ideal underground cable choice.
5. How much does underground cable cost?
There is no actual price for this type of cable. Prices tend to vary depending on the underground cable types and the size of the wire. Logically, a bigger underground cable uses more copper. The bigger the copper used in the manufacturing process, the higher the price of the wire. This does not necessarily mean you should pick a small-sized cable just because it is cheap. As I indicated earlier, the size of the conductor has severe implications on the cable's current carrying capacity. ZW CABLE can provide underground cable price and Underground cable installation.
A small-sized cable will most probably burst into flames because it cannot withstand the amount of electric current passing through it. If this happens, you'll have to replace the cable. Replacement of an underground cable is more costly than typical PVC cables because you have to incur some expenditure in finding it. Thus, it is best to invest in the right size of cable regardless of the price. If you feel that underground cable suppliers are jerking up the prices unnecessarily, it is advisable to order it direct from ZW Cable.