When delivering data or transporting electricity under challenging settings, flexible armored cables are vital. It's critical to protect your cables if you want to run your business safely and reliably. What are among the most popular applications for flexible cables in the electrical industry? It's frequently employed in any process that necessitates a great deal of folding. Pull chain devices, soldering computational gadgets, robotic production lines, and automated connection are illustrations of such uses.
1. What is a Flexible Armored Cable, and how does it work?
The flexible armored cable is a regular connection with an extra layer of security to prevent cutting or destruction. The cable core's efficiency, reliability, and security are all improved due to the armor. Flexible armored cable wiring is commonly used in situations that need bending regularly. In high-risk applications, it would be beneficial if you did not utilize a standard copper flexible cable.
A flexible armored cable is recommended for high-risk situations. The kind of conductor, the shielding layer, and the compounds utilized in cable production are all essential in influencing a flexible armored cable. Flexible compounds should also be employed in cable insulation and jacketing construction. You can quickly get a flexible cable from us that meets your exact requirements.
2. What Are The Types Of Armored Cable?
Armored cables are mechanically protected if they are to be used outside or in direct burial projects. Aluminum wire armor (AWA), steel wire armor (SWA), and cable with higher pulling pressures provide this protection. Armored cables come in two varieties. Armor made of aluminum and steel wire. The types of armoured cables we produce are:
Steel tape armored cables are often abbreviated as STA (Steel Tape Armor).
Steel tape armoured cable, often known as STA cable, is a type of armored wire made of steel adhesive. It is often used for power lines with a voltage of less than 35 kV. The cable sheath of a steel belt armored cable does have a metal armor coating, which is primarily used to protect the cable from being damaged by external compression.
SWA (steel wire armored cable) is a common abbreviation for steel wiring protected wires Steel Wire Armor).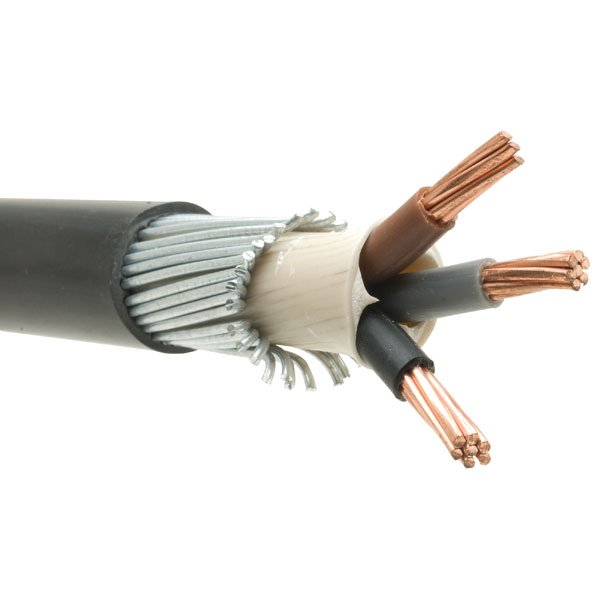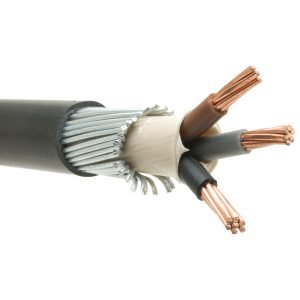 SWA 3 Core Armored Electrical Cable
Steel wire armored cable, shortened as SWA, is a rugged power cable developed for delivering leading power energy. It's one of several armored electrical cables available, including 11kV Cable and 35kV Cable.
3. What's The Difference Between Armored and Flexible Cable?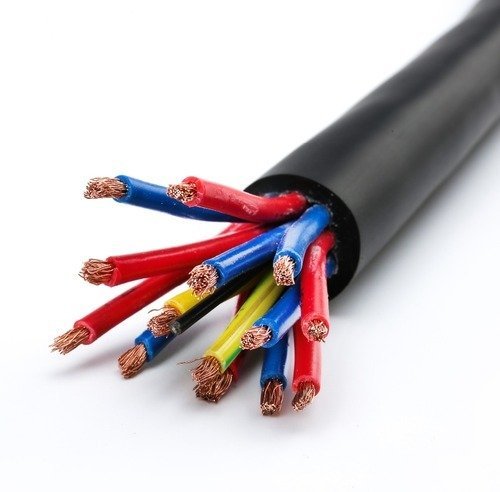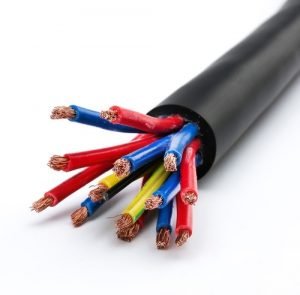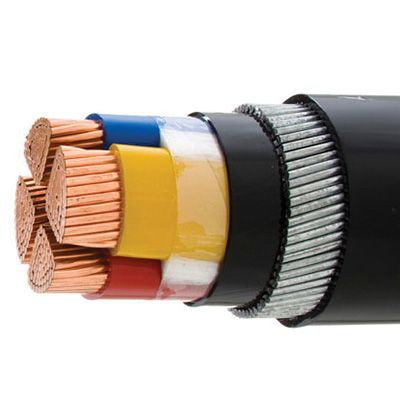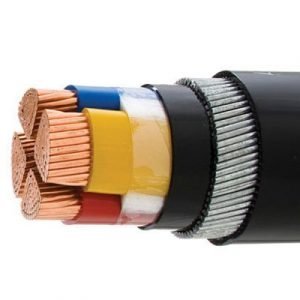 An Armored Cable and A Flexible Cable
A metal wrapping of some kind serves as the first line of defense for armored cabling. It's commonly made of aluminum or stainless steel that's interlocked or continuous. Metal tape, either smooth or curved, can be used to cover it. The armor safeguards the cables within from moisture caused by hot weather, greater washdown, and cleansing solutions Flexible cable, on the contrary, is frequently braided or wrapped in foil.
Armored cable jacketing substances like silicone tube-covered thermoplastic elastomer or PVC protect the cables against severe chemicals, oils, and sunlight. Repetitive impacts, abrasion with loaded components, and weld slag all contribute to physical failure. Furthermore, the majority of armored cable jacketing materials are flame retardant. In contrast to flexible cable, this is not the case.
Inside the wire packs of metal-clad armored line used in industrial applications, there is a ground cable. Armored wires can be rooted via their wrappings, but they can also be seen at precise spots without grounding the networks. It enables them to be used in open locations such as carriers, raceways, and electrical wires in factories and mills.
The ability of a flex cable to endure the stress associated with continuous flexing motions is its primary benefit.
Flexible electrical wires are made to be extremely flexible and long-lasting. This sort of cable may flex or stretch and twist as much as you like without causing damage. As a result, it's used in wiring applications where wire location and gesticulation are a problem.
Applications of Flexible Cables
It's commonly employed in any application that necessitates constant bending. Welding, drag chain installations, robotics, assembly lines, data processing appliance, and automation networking are only a few examples of such applications. A flexible cable is ideal for positioning complex structures. Although most cables are quite flexible, it's crucial to remember that not all of them fit into the flex-type cable group. Flexible cables ensures high-quality performance even in the most adverse conditions. It would help if you utilized a flexible cable wire in applications that require severe flexing qualities and a broad range of motion.
Flex cables come in a variety of shapes and sizes, each optimized for a particular application. It's also worth noting that their flexibility can differ even if the flex cables are the same kind. Idyllically, the greatest thing you can do is review the flexible cable description and make sure that all of the specs fit your exact needs.
What types of environmental dangers are most likely to occur? In contrast, a heat-resistant flexible cable is the best choice if the area is subjected to extreme temperatures.
As a result, one of the most critical parameters to think about is the flexible cable size. Each cable is made to carry a specific quantity of current. At 350 degrees Celsius, a 16 mm flexible wire can transport up to 109 amperes. A 6 mm flexible cable, on the other hand, may transport up to 32 amperes. When choosing a cable, don't be concerned with the price of the flexible cable. Instead, concentrate on the cable specification as it relates to your unique requirements.
4. What are Key Tips To Consider When Selecting Flexible Armored Cable
The ability of a flexible armored cable to endure the stress associated with constant flexing motions is essential in primary benefit cabling processes. Flexible cables are commonly employed in applications that need bending regularly.
Armored Flexible Cables Dimensions
When choosing a selection, one of the most crucial elements is size. Despite the higher current, the wire may disintegrate if several interactions occur with a small cable. Every flexible armored wire is designed to carry out a certain number of operations. A flex connection with a diameter of approximately may convey up to 32 amperes. A flex armored wire with a diameter of 16 mm may carry 109 amperes. Take into account the kind of cable solutions you intend to employ while making your decision. Pay very close attention to the cabling parameters in relation to your personal needs.
Environmental Impacts
Consider the environmental effects when choosing a flexible armored cable. It would help if you chose the appropriate flexible cable. More significantly, consider the setting wherein the setup will be carried out. What types of environmental dangers are more likely? However, if the site is exposed to high temperatures, a high – temperature flexible wire is the ideal choice. In certain circumstances, the regions where you will be installing the cable inhabited pests and rats. In this instance, a flexible armored cable will be required.
Safety and Durability
In the shortage of conduits, flexible armor cables offer appropriate protection and longevity. The flexible armored wire is ideal for usage in high-risk environments. It comprises applications that are prone to cable abrasion and cable corrosion. A flexible armored cable is appropriate for use in wet situations since it can withstand the elements. Armor-clad cables are recommended in dangerous situations such as beneath stairwells, barns, and tunnels, to name a few.
Legal And Safety Guidelines
The usage of armored wires is strictly restricted, mainly for safety reasons. As a result, while picking a Flexible armored cable for your application demands, you should consult a competent specialist or the authorities before making a purchase. This will assist you in avoiding any significant code violations during the choosing process.
You'll have a simpler time choosing the correct flexible armored cable for your project if you keep the above guidelines in mind.