Currently, a cable drag chain is one of the most unappreciated facets of electrical wiring. The fact that most of people are clueless regarding cable drag chains is absolutely surprising. Recently, the world has witnessed immense industrial growth.
The industrial environment is characterised by vast adverse conditions. In such an environment, electrical cables need to be covered and protected to achieve maximum durability. That being said, you cannot use any type of electrical wire on a drag chain. Which is the most ideal drag chain cable?
Cables in a drag chain are constantly subjected to fast movements, uneven pull and twisting, and exposure to corrosive industrial chemicals. You need to choose a special type of cable that can withstand such conditions.  Logically, you need a highly flexible cable drag chain wire.
However, the cables flexibility is not the only thing you need to consider. For an untrained individual, it is quite challenging to choose the right cable drag chain wire. Fortunately, by the time you finish going through this post, you will be well-equipped to make the right choices. All you need to do is go through this free article word for word and grasp all the valuable information.
1. What Is Cable Drag Chain?
Drag chains are used in a wide array of industrial applications. Some of the most common applications include industrial robots, machine tools, automation machinery, vehicle transporters, and cranes, to name a few. Essentially, a cable drag chain supports and protects moving cables. What cables are these and why do they need protection?
Cables used in an industrial environment are often in a mess and are constantly subjected to constant uneven pull and winding. Moreover, the cables are often exposed to harmful oil and corrosive chemicals. Can you visualize what would happen if such cables did not have any protection? Logically, without protection the cables will need persistent replacements due to repeated damages. An electrical cable drag chain offers an effective shield against such adverse conditions. However, the protection offered by a cable drag chain is not adequate in itself.
It is often advisable to use a specific cable drag chain wire that is suited for such high stress situations. It is best to use a flexible drag chain wire because it can withstand the uneven pulls and twists associated with industrial applications. Still, that is not the only thing you need to consider. Here are some things that you need to consider when choosing a suitable cable for a drag chain;
Your cable choice should have a tensile center
Your cable choice should have a stranded thin conductor for maximum flexibility
The insulation material should not stick to each other, must have an inner sheath and a tightly braided shielding layer.
2. How to Design Cable Drag Chain?
Do you intend to design your own Cable drag Chain?  The process of designing one is complex and time consuming. It would be best to order a custom-made drag chain that suits your specific needs rather than attempting to design one. There are several cable drag chain manufactures that offer custom services. That being said, there is no harm in knowing how to design a drag chain.
First, you need to understand that drag chains are mechanical systems whose sole purpose is to shield different cables in dynamic motion applications. A robot cable is an excellent example of a cable that needs such protection. Logically, a drag chain cable design is undertaken based on the specific application needs. What do I mean?
You need to ascertain inner cable chain space that suits your specific application. Simply put, you need a drag chain that provides adequate space for your cable drag chain wire. To guarantee proper cable functioning and safeguard the cables in the chain system, you need to determine the appropriate chain sizes.  Chain sizes tend to vary depending on the intended applications. It is advisable to cable drag size chart when attempting to pick out a size that suits your specific applications.
There are several cable chain types. Each type is differentiated by the material used in its manufacture, its speed, acceleration, and several other factors.  Currently, nylon cable drag chain and steel cable drag chain are the most common types. Nylon-type cable drag chain is ideal for heavy duty applications.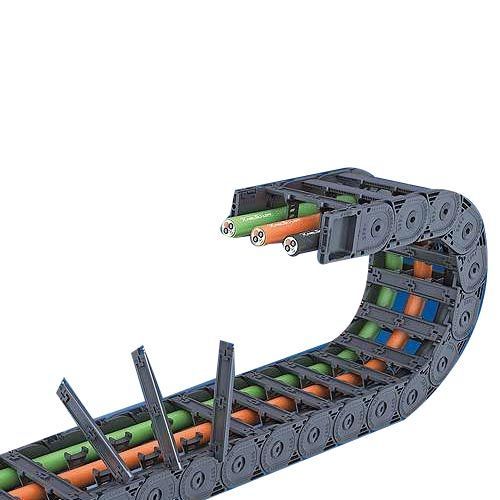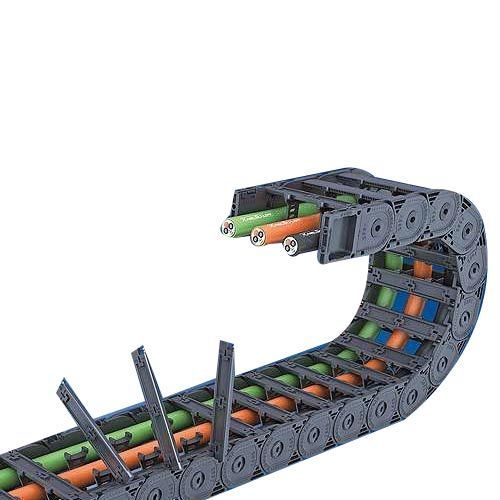 3. Where to Buy a Cable Drag Chain?
There are several entities where you can buy a drag chain. You can simply order one that suits your specific needs from a trusted manufacturer. Alternately, you can search for drag chain cable suppliers near you on your Google search engine. I am sure that there are several suppliers who sell drag chain cables within your locality. However, it is not advisable to just buy from the first manufacturer or supplier that just pops up in your radar. You need to carefully consider the quality of the cable drag chain that you intend to buy and whether it suits your specific needs.
At ZW cable, we strive for excellence in whatever product we manufacture. With over a decade of experience and a fully dedicated team of technicians, we guarantee that we can deliver the best product for you. So, why shouldn't you buy a drag chain cable from us at an affordable price?
4. How to Choose a Cable Drag Chain?
Like ordinary electrical cables and accessories, a cable drag chain is not one-fits-all. The appropriate choice is entirely dependent on an individual's intended application. As I mentioned earlier, the chain type and the cable type you intend to fit on the chain is critical in cable design. Well, the same goes when choosing a drag chain cable.
There are several drag chain cable sizes and failure to choose the right size is disastrous. Still, the drag chain size is not the only thing you need to consider. You also need to consider the cable chain type in accordance with your intended application. The image below shows the type of application suited for each of the two main cable chain types namely, nylon cable drag chain and steel cable drag chain.
Other factors that you need to consider when choosing a cable drag chain include;
The chain's cable clearance
The chain's fill
The chain's cavity setup
The chain's bending radius